Mohamed bin Salman is accused of having orchestrated the murder of the journalist critical of the Saudi authorities Jamal Khashoggi.
The president of FIFA, Gianni Infantino, has once again been the center of criticism after being caught smiling with the crown prince of Saudi Arabia, Mohamed bin Salman al Saud, who is linked to the murder of critical journalist Jamal Khashoggi.
At the opening ceremony of the Qatar 2022 World Cup, Infantino shared the presidential box with the Qatari emir, Tamim bin Hamad Al Thani, and was seated next to the Saudi crown prince, according to images posted on social networks.
Internet users were quick to react to this scene, comparing the current head of FIFA with the former president of the organization, Sepp Blatter, who was forced to resign in 2015 due to corruption scandals in the election of different World Cup venues, including Qatar.
"With a smile, Infantino sits next to Prince Mohamed Bin Salman, accused of masterminding the murder of Jamal Khashoggi. The Blatter of the 21st century"sentenced a netizen.
The US government last week recommended granting immunity to Mohamed bin Salman, given his status as Saudi prime minister, in the case of the death of Khashoggi, who, according to the Biden Administration, was assassinated on the prince's orders.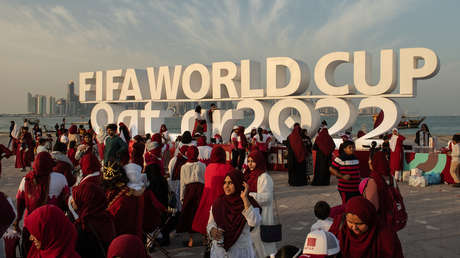 Other users criticized the Saudi crown prince for "the uselessness" of his boycott against Qatar, with whom he broke diplomatic relations in 2017 after accusing Doha of supporting terrorism.
"Mohamed Bin Salman sitting in the box next to the Emir of Qatar at the opening ceremony is a reminder of what futile and destructive was the four-year boycott of Qatar led by Saudi Arabia. Now they're friends again, just in time for the World Cup!", tweeted MSNBC host Mehdi Hasan.
Meanwhile, several netizens suggested that the fact that the Saudi crown prince was sitting next to the FIFA chief would point to the fact that the Saudi kingdom could host the 2030 World Cup.
"Mohamed bin Salman sitting next to Gianni Infantino in the opening game of the World Cup for the second time in a row. In 2018, Russia faced Saudi Arabia. Now, a sign of Which way is the wind of the 2030 World Cup blowing?"The Athletic journalist Laurie Whitwell wrote on Twitter.
The controversial photo comes just one day after a controversial speech by Infantino, in which he defended the holding of this World Cup against the "hypocrisy" of Europe.
"I think that for what we Europeans have done in the last 3,000 years we should ask for forgiveness in the next 3,000 years before we start giving people moral lessons," he said.


Source: RT