Access to shorter and cheaper routes offered by Russian airspace gives companies such as Air India, Emirates and China Eastern Airlines an "unfair" advantage, the newspaper explains.
The US Department of Transportation has prepared a regulation that seeks to ban Chinese airlines from flying to the US over Russian territory, The New York Times reported on Friday, citing three sources. The document, which could also include airlines from other countries, has been presented to White House officials.
According to the outlet, US airlines are losing profits to foreign competitors such as China, India and the United Arab Emirates that can transport passengers between the United States and Asia faster and cheaper. Continued access to cheaper routes in Russian airspace means that companies like Air India, Emirates and China Eastern Airlines have a huge and "unfair" advantage, he explains.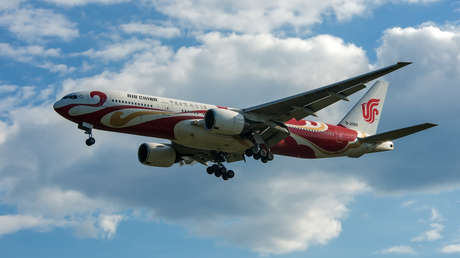 Because they cannot use the "time and fuel-saving" polar routes, US airlines are forced to play "Twister" to avoid undue risk.
change of routes
The outlet indicates that airlines have had to change some routes transpacific to have a place to land in case of emergency, have reduced number of passengers to cut costs and have postponed more than a dozen planned new routes to Mumbai, Tokyo, Seoul and other cities.
Specifically, on a typical 14-hour flight, US carriers have to spend an extra hour or two to avoid Russian airspace.
Ticket prices have also gone up. For example, a New York-New Delhi flight costs about $1,500 for a 13-hour, 40-minute journey on Air India, while its competitor American Airlines offers that route for $1,740 with an estimated duration of 14 hours, 55 minutes.
"It hurts the United States as a whole"
Thus, the newspaper indicates that this situation "harms the United States as a wholewith fewer connections to key markets, fewer well-paying airline jobs" and a downturn in the overall economy.
Now the airlines are insisting that the White House and Congress address the problem by applying to foreign carriers from countries that are not yet banned from Russian airspace. the same conditions than to the Americans.
However, NYT points out that the White House is "aware of the possible diplomatic implications of taking action against a long-standing ally like India, or of adding more tension to an already strained relationship with China."
The United States, together with the European Union, closed airspace to Russian planes in early March last year, shortly after the start of the special military operation in Ukraine. Moscow responded with similar measures.
Source: RT