"The US and South Korea openly revealed their dangerous attempt to gain long-term military advantage," the North Korean Foreign Ministry said.
North Korea has warned that it will take "unprecedented" action against Washington and Seoul if they hold planned military exercises in 2023.
"Should the United States and South Korea carry out their already announced plan of military exercises that North Korea, with just apprehension and reason, considers preparations for a war of aggressionthey will face unprecedented strong and persistent counteractions," the Ministry of Foreign Affairs said in a statement quoted by KCNA on Friday.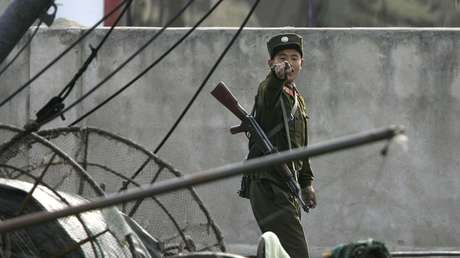 According to the institution, Washington and Seoul "plan to conduct more than 20 rounds of various joint military exercises this year," including the largest-ever field exercises between the two nations. "This predicts that the situation on the Korean peninsula and the region will once again plunge into the serious vortex of escalating tension," the text said.
At the same time, Pyongyang regretted that "the international community has not spoken out against the unfair US behavior that deliberately violates the purpose and principle of the UN Charter stipulating equality of sovereignty, respect for sovereignty and non-interference", calling on member countries of the United Nations Security Council to "look back coldly about the worrying arrogant and arbitrary practices" from Washington, assuring that it seeks to "reduce" the organization "to a tool at the service of its foreign policy."
In this regard, the ministry also noted that North Korea "should react as the US and South Korea openly revealed their dangerous attempt to gain long-term military advantage." He also denounced that both countries "are the archcriminals that deliberately disturb the peace and stability of the Korean Peninsula and the region".
The statement comes after the South Korean Defense Ministry announced this same day that Seoul and Washington will carry out a simulated training next week, designed to militarily confront and counter a possible nuclear threat from Pyongyang, Yonhap reported.
Meanwhile, South Korea's Vice Minister of National Defense Policy Heo Tae-keun announced that in mid-March the two countries will also carry out joint field exercises, which will be larger than those conducted in recent years. .
Source: RT