Yoav Gallant called the bill "a clear, immediate and tangible threat."
Israeli Prime Minister Benjamin Netanyahu fired Defense Minister Yoav Gallant on Sunday after his opposition to judicial reform.
While visiting the UK on Saturday, Netanyahu indicated that he had lost confidence in the defense minister after he "acting behind the government's back".
Previously, the former Secretary of Defense made a controversial statement in which he asked the prime minister to stop the judicial reform long enough to engage in deeper negotiations with other political sectors and thus reach a compromise.
"The growing division in our society is penetrating the Israel Defense Forces and security agencies. This poses a clear, immediate and tangible threat to the security of the State.Gallant stated.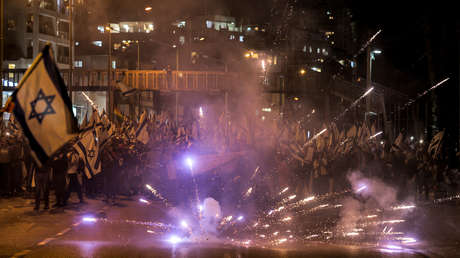 "For the sake of Israel's safety, for the sake of our sons and daughters, the legislative process must stop"added the minister, also calling on the protesters to end the mass protests.
The statement occurs amid the twelfth week of mass protests against the controversial judicial reform – intended to severely limit the powers of the Supreme Court and change the system of election of judges – proposed by the Government of Israel's Prime Minister, Benjamin Netanyahu.
Crisis in the Israeli Army?
This Wednesday, the Israel Defense Forces (IDF) warned Netanyahu that more and more soldiers are refusing to report to duty in protest against the judicial reform that, if approved, would deepen the crisis within of the military institution.
On the same day, reservists from multiple units declared that they will not report for duty, including 700 soldiers from one of the main IDF brigades, who sent a letter to the authorities urging them to do everything possible to stop the project. "This is a violation of the social contract. This is not the path of the State of Israel," the letter reads.
In another letter, 100 senior Air Force reservists reported making a similar decision, joining the 180 pilots, 50 controllers and 40 drone operators who have already taken that step.
Source: RT