Of the 303 meters of buoys in the river, 240 meters are in the territory of the Latin American nation and only 63 meters on the US side.
Most of the giant buoys installed in the Rio Grande by order of the Republican governor of the US state of Texas, Greg Abbott, to prevent the crossing of migrants from Mexico are in waters of the Latin American country, according to results of the topographic survey presented as part of the US Department of Justice lawsuit against the state.
Of the 1,000-foot buoys in the river, which flows through Texas and northern Mexico, 240 meters (79% of the barrier) are in the territory of the Latin American nation and only 63 meters from the US side, revealed the study, carried out by the International Boundary and Water Commission (CILA), an organization made up of representatives of the two bordering countries.
The orange buoys, installed in the first half of July, marked a new phase of the 'Lone Star' operation, which also includes a barbed wire fence, the detention of undocumented immigrants on charges of trespassing and the sending of asylum seekers to cities in Democratic states. The operation was launched by Abbott to counter illegal immigration and drug trafficking, problems for which he blames President Joe Biden.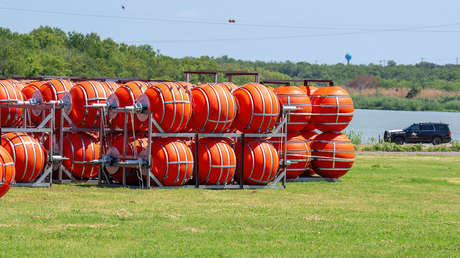 The lawsuit against Texas was filed on July 24 and requests a federal court in the city of Austin to order the removal of the buoys, which, according to the Department of Justice, pose environmental and humanitarian concerns and they settled without getting permission from neither of the two countries. The judge set a hearing on the federal government's request for August 22.
In anticipation of the lawsuit, the state governor sent Biden a letter urging the president to "enforce federal laws prohibiting illegal immigration between ports of entry," but for now Texas "will make full use of its constitutional authority to deal with the crisis that you have provoked". "Texas will see you in court, Mr. President," she wrote.
For its part, the Mexican government sent two diplomatic notes accusing Texas of violating the 1944 Water Treaty and another from 1970 that delimits the border between the two countries.
Criticism increased after the discovery at the beginning of this month of August two lifeless bodies in the area of ​​the buoys. "All this that is happening is very inhumane," Mexican President Andres Manuel Lopez Obrador criticized the installation of the floating barrier. However, Abbott's office assured that there is no indication that she had anything to do with the deaths of the migrants.
Source: RT