The principal of the Florida school was forced to resign after complaints from parents outraged that the image of 'David' had been displayed in an art class.
The Florence museum that houses the 'David', the iconic work of Michelangelo, invited parents and students of the Classical School of Tallahassee (Florida, USA) to visit it after the board of directors forced the resignation of the principal of the educational establishment because of complaints she received about an art class in which sixth graders were shown an image of the Renaissance masterpiece.
Hope Carrasquilla submitted her resignation last week after two parents complained because they had not been notified that a nude would be shown in one of the classes despite the fact that this is established by one of the school rules on the teaching of "controversial" topicsand that a third party directly qualified 'David' of pornography.
A photo of the marble sculpture of the biblical 'David' about to face Goliath, clad only in his faith in God, was shown in the class that caused an uproar among American school board members.
"Misunderstanding of Western Culture"
The director of the Accademia Gallery in Florence where 'David' is located, Cecilie Hollberg, expressed her astonishment at the controversy in Florida and invited Carrasquilla, the school's board of directors, parents and students to see with their own eyes the "purity"of the statue.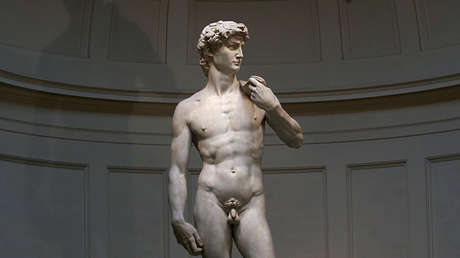 "Thinking that 'David' could be pornographic really reveals a misunderstanding the content of the Biblea misunderstanding of Western culture and a misunderstanding of Renaissance art," Hollberg told the AP in a telephone interview.
Hollberg also added that the classic sculpture is very popular with Americans who visit the gallery and rush to "take selfies and enjoy the beauty of this statue".
"Art is civilization and whoever teaches it deserves respect"
The mayor of Florence, Dario Nardella, also extended a personal invitation to former director Carrasquilla "to give her recognition on behalf of the city" and stated in Twitter that it is "ridiculous" to confuse art with pornography. "Art is civilization and whoever teaches it deserves respect", stressed.
Carrasquilla confessed in a conversation with AP that he feels "very honored" for the invitations to Italy and that I may accept them. "I've been to Florence before and seen the 'David' up close and personal, but I would love to go and be the mayor's guest," she said.
The Italian response reflects how America's culture wars are often perceived in Europe, where despite the strengthening of the right, the Renaissance and its masterpieces, naked or not, are generally uncontroversial.
Like many other museums in Europe, the Florence museum is free for student groups. Although personal invitations have been extended, there is no indication that the city or the museum is willing to subsidize the trip to Italy.


Source: RT