This is the condition imposed for Russia to return to the grain transport agreement from the Black Sea ports.
The UN has three months to fulfill the obligations to unblock Russian food and fertilizer exports, the spokeswoman for the Russian Foreign Ministry, Maria Zajarova, announced on Wednesday, two days after Moscow announced the suspension of the grain agreement.
Speaking to the Sputnik radio station, the spokeswoman cited the Memorandum of Understanding between Russia and the UN stipulating the facilitation of Russian exports of agricultural products and fertilizers. The document was signed in July 2022, within the framework of the Black Sea Initiative on the transportation of grain from the ports blocked by the Ukrainian conflict.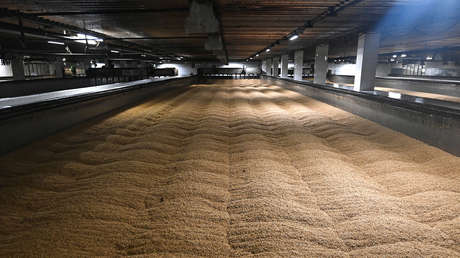 "The Russia-UN Memorandum document itself says, and I quote literally, that the agreement will remain in force for three years, and in case one of the parties intends to terminate its application (and we are talking about Russia or the UN ), you must notify it with three months in advanceZakharova said.
Now that Moscow has notified it, the official clarified, the United Nations "still has three months to get concrete results".
"Therefore, now it is not necessary to run to the microphones of the UN Secretariat, but to use these three months to achieve specific results. If there are concrete results, we will discuss this matter again," the diplomat asserted.
In addition, he noted that Russia has clarified its position on the pact, which comprises two important components: "first, as it has been until now, it will no longer bewe will no longer participate in it, because it did not lead to the established objectives and results."
"And second, if the results and objectives established in the documents, which were to be carried out by the other parties [del acuerdo]are achieved in the form of concrete results, then we can consider return to this topic", he stressed.
Source: RT