The authorities consider that the minors are still alive.
The Colombian authorities continue with 'Operation Hope' to find the whereabouts of four indigenous children who have disappeared for more than a month in the jungle, in the Amazon region of the department of Guaviare, on the border with Caqueta.
The rescue team claims to have two new leads. They've found new footprints and believe one of the search party's dogs might be with the children.
"We have a lost dog and the last tracks that show a dog's track and a child's track is shown. We believe that Wilson is with them.. That's the name of the dog, but it's lost. It would be spectacular if the puppy was with them, it would be good company," Lieutenant Colonel Fausto Avellaneda told the Caracol Television program Los Informantes.
These clues are added to other elements that have already been found in the raked space, such as a diaper, a bottle, scissors, footprints, remains of bitten fruit (which they possibly used to feed themselves) and a cambuche (a place armed and used to rest ). Among the difficult conditions in the area are the constant rains, which erase any evidence that the children are leaving.
The minors disappeared on May 1, when the plane they were traveling in crashed in the middle of the jungle. In addition to the four children, three adults were traveling on the aircraft, including the mother of the infants and the pilot, who were found dead two weeks after the incident.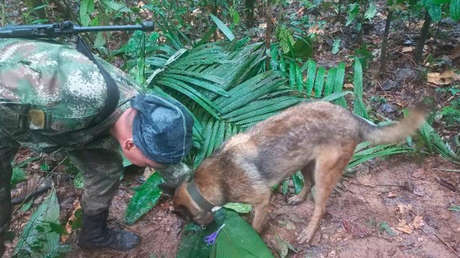 The missing minors are Lesly Mucutuy, 13 years old; Soleiny Mucutuy, 9 years old; Tien Noriel Ronoque Mucutuy, 4 years old; and Cristin Neriman Ranoque Mucutuy, who was 11 months old at the time of the incident, but turned 1 on May 26, according to Brigadier General Pedro Sanchez.
"We have done everything humanly possible, but also even the impossible to bring these four minors, who are our family, to the home where they belong," said Sanchez.
The military consider that the minors are alive. "It's not a needle in a haystack, but a tiny flea on a rug, because it's moving. If they were, God forbid, dead, we would have found them already, because they would be still and the smell would guide many animals and guide us. They would give indications of where they are," he explained.
Source: RT