Prior to his meeting with Elizabeth Sherwood-Randall, the president highlighted the good state of the bilateral relationship between Mexico and the US.
The President of Mexico, Andres Manuel Lopez Obrador, anticipated the agenda of the meeting that he will hold this Monday afternoon with Elizabeth Sherwood-Randall, National Security Advisor to the US Government.
"Migration, drug trafficking, weapons and cooperation for development," the president listed the topics of the meeting, while highlighting the good relationship he maintains with his American colleague, Joe Biden.
"So good is the relationship that Mrs. Elizabeth has come about four times this year, has been in constant communication with us and there are very good results from the cooperation work", he highlighted.
Sherwood-Randall arrived in Mexico City this Monday, as he will meet with Lopez Obrador in the afternoon. On Tuesday, she will participate in the trilateral summit between Mexico, the United States, and Canada, whose central theme is the fight against trafficking and consumption of fentanyl.
Participating in the official delegation of the US Government are the Undersecretary of State for Management and Resources, Rich Verma; Department of Justice Assistant Attorney General Lisa Monaco; and the Undersecretary of the Department of Homeland Security, Kristie Canegallo.
Migration
Regarding the specific agenda between the two countries, Lopez Obrador warned that there are no substantive differences on the central issues.
In particular, he referred to cooperation in immigration matters, since thanks to joint work, the support program was launched that allows people living in Central America to process visas to the US from their places of origin.
This, explained the president, helps them not have to take risks when they try to reach the US through Mexican territory.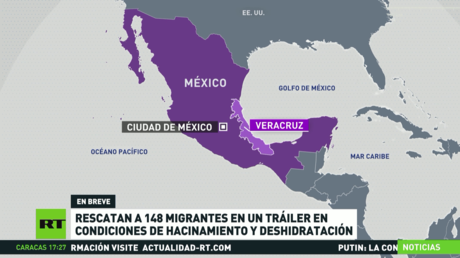 "Work visas are being applied to migrants from some countries to order the migratory flow. For the first time, a formal legal channel is being opened so that the migrant can reach the United States without having to cross our country, with all the risks that it implies," he said.
To this end, he added, special processing centers have been set up in Colombia, Panama and Guatemala, thanks to which around 300,000 work visas have been granted so far to citizens of those countries and of Haiti, Venezuela and Cuba.
"There is already a route, a conduit that did not exist, you only entered the United States risking your life to cross the border (…) this has helped a lot, the results are very good," he said.
Source: RT