The Latin American country plans to carry out unmanned exploration on the Moon with the Colmena project.
The Chamber of Deputies of Mexico approved this Tuesday a constitutional reform to consider space, the Moon and other celestial bodies, such as "priority areas of development".
"By breaking down a historical lag, the legislative scaffolding is created that will allow the development of space activities related to industry, energy, telecommunications, health, agriculture, the environment, urban development, climate change, natural disasters, and more," said the general director of the Mexican Space Agency (AEM), Salvador Landeros Ayala.
On the other hand, Mexico is close to carrying out its first unmanned moon landing. It's all about the project Hiveintegrated to five micro robots that will be launched into space in the first half of the year, possibly in May. The University of Mexico (UNAM) has been working on this mission for four years together with the Mexican Space Agency.
The five robots are expected to explore the lunar terrain with the idea of ​​finding conditions for the search for water, oxygen and minerals.
Mexico is the headquarters of the recently created Latin American and Caribbean Space Agency (MOOSE), organization that coordinates the efforts and advances in this field in the region. The agency could collaborate strongly to make future space missions a reality.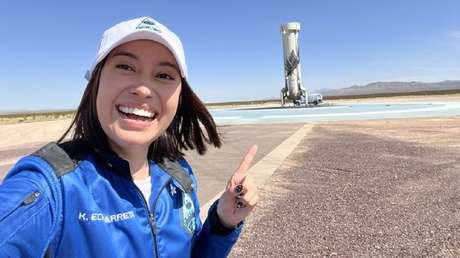 62 years have passed since humanity flew over and discovered space, led by cosmonaut Yuri Gagarin, on April 12, 1961. It was the watershed of a space race that brought to light the advances in the exploration of the cosmos in the second half of the 20th century. For this reason, Cosmonautics Day is celebrated every year.
In Mexico, the Luis Enrique Erro Planetarium invites you to visit the universe from your imagination. "Cosmonautics certifies our role as human beings and also unifies us towards space. We are part of that and knowing the universe is also knowing ourselves," Wilder Chicana Nuncebay, an astronomer at the National Polytechnic Institute (IPN), told RT.
The 21st century has made travel into outer space more universal. In June 2022, Katya Echazarreta became the first Mexican-born woman to cross the atmosphere with the organization Space for Humanity, as part of the Blue Origin NS-21 mission.
On December 13 of the same year, before the Chamber of Deputies of her country, the electronic engineer and scientific disseminator declared that she did not want to return to space. "without Mexico"and promised that he would do "what is necessary" to create those opportunities for Mexicans.
However, she clarified that she could not do it alone: ​​"The people who can achieve support, who can achieve this industry, are in this room right now," Echazarreta said then.


Source: RT