According to the former Russian president, the US ended up endorsing the supply of cluster bombs to kyiv "after exhausting all resources."
The former president of Russia and current deputy head of the country's Security Council, Dmitri Medvedev, declared this Saturday that the US. continues to seduce Ukraine with the promise of its incorporation into NATO, something that, if it ever materializes, would mean a new world war.
"Now him [el presidente estadounidense Joe Biden], after exhausting all resourcespromises cluster bombs and once again seduces the neo-Nazis in kyiv with the prospect of NATO, the execution of which means the Third World war"Medvedev wrote on his Telegram account.
Biden said this Friday in an interview with CNN that Ukraine is not ready to become a member of the Atlantic Alliance, because it still has to take a series of steps.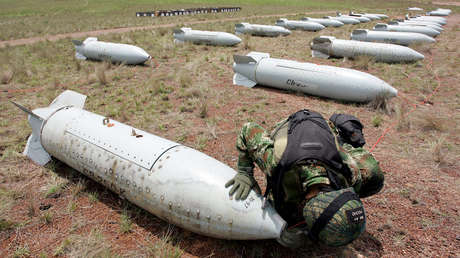 "The easiest thing to think is that this is the direction of any American and Deep State leader: dominate and restrict other countries. […] We can say that [Biden] he is a sick old man with dementia. about this they rant [el expresidente Donald] Trump and a large part of the American people," said the former Russian president.
"Or maybe it's not like that? Maybe the dying old man, possessed by insane fantasies, decided to leave gracefully, causing a nuclear armageddon and taking half of humanity with it to the other world," Medvedev concluded.
without unanimity
In the aforementioned interview, Biden said that Ukraine must meet the established requirements, such as "democratization" and "a lot of other issues", in order to aspire to membership of the Atlantic Alliance. The procedure "it takes some time", he assured, noting that there is no unanimity on the block on whether now is the right time to accept Kiev.
In addition, the tenant of the White House stated that Washington will be willing to provide Ukraine Israeli-type security guaranteeswith the supply of weapons, while the Government of President Vladimir Zelensky advances in the preparations for membership.
On the eve of the next NATO summit, scheduled for July 11 and 12 in Vilnius, the Lithuanian capital, the Kiev government reactivated his calls so that they give more concrete steps towards joining the military bloc. However, so far its members have not yet agreed on what they will offer Ukraine in Vilnius, reports The Washington Post.
Source: RT