The deputy head of Russia's Security Council inspected an exhibition of Western war equipment.
The West is not interested in negotiating a peaceful solution in Ukraine, since its intention is to make the most of the conflict for its military-industrial complex, the vice president of the Russian Security Council, Dmitri Medvedev, declared on Wednesday.
"Their speech that the time has come to sit down to the table and start peace negotiations is a misleading position. They don't want this. They want to continue doing turn the wheel military in order to earn money for their budgets," Medvedev told reporters during a visit to the army forum 2023 in the Moscow province.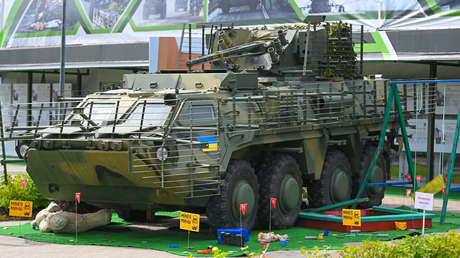 The former Russian president mentioned that Russian troops "calcined very successfullyWestern-supplied war materiel, losses that Western countries periodically make statements about "returning to the negotiating table to reach a compromise."
After referring to these talks as "only part of the story", the senior official recalled that the defense industry in the United States and Europe sees the conflict as "a method to win huge funds through its supplies to Ukraine".
During his visit to the forum, Medvedev inspected a display of Western war equipment destroyed or captured by Russian forces.
🇷🇺 The vice president of the Russian Security Council, Dmitry Medvedev, toured an exhibition of Western tanks captured in Ukraine and on display in Patriot Park, on the outskirts of Moscow pic.twitter.com/06W2Ev7uYs

— Know More (@Sepa_mass) August 16, 2023
"It is quite clear that we have managed to learn to deal with them. The counter-offensive attempts that the Ukrainian side undertakes are, in fact, unsuccessful"He confirmed, although he pointed out that enemy teams should not be underestimated, since there are good and bad models, which is evident on the battlefield.
Western equipment on display includes a howitzer M777 US-made, Humvee armored vehicles, communications equipment, a Swedish infantry fighting vehicle CV90-40 and a modernized infantry transport vehicle M113. Medvedev also paid attention to a burnt-out Australian Bushmaster armored vehicle, a French tank AMX-10RCRBritish armored Husky, Mastiff and AT105 Saxon, as well as an Anglo-French missile Storm Shadow.


Source: RT