"The images remain classified and I have not received any information on possible timelines for a classification change," a Pentagon spokesperson told the Daily Mail.
The US Department of Defense has admitted that it has images of the flying objects shot down in February this year over North America, although they remain classified and cannot be released in the near future.
"I can tell you that there are currently no photos or videos that we can post," a Pentagon spokesman told the Daily Mail on Monday. continue to be classified and have not received any information on possible timelines for a classification change," he added.
The refusal to release the images contrasts with the rapid publication of a photo taken by a US Air Force pilot of an alleged Chinese spy balloon shot down on February 4 off the east coast, the outlet said.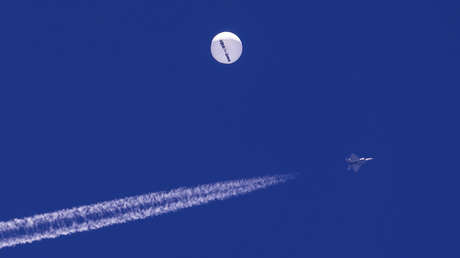 This has led to speculation that the government knows the nature of the three objects – struck down by Sidewinder missiles between February 10 and 12 over Alaska, Lake Huron in Michigan and the Canadian territory of Yukon – but embarrassed to reveal it to the publicas they could have been completely harmless, while the country spent at least $1.5 million to remove them, Daily Mail claims.
In this regard, a fan club from the state of Illinois claimed that one of its balloons was flying over the Yukon and stopped transmitting the signal at about the same time that an F-22 Raptor fighter fired at the unidentified object detected in the area.
In addition, the descriptions of the three "unidentified dangerous objects" the Air Force shot down are reported to match the shapes, altitudes and payloads of small 'picoglobes', designed especially for hobbyists, educators, and scientists by a Silicon Valley company. He price of these devices is only a few dollars.
In this context, US Senator Ted Cruz mocked the Joe Biden Administration's decision to immediately shoot down what could be simple weather balloons. The government is providing "a powerful deterrent to any science club attempting to invade the United States," tweeted.
Josh Hawley, another Republican senator, also criticized the demolition of the planes and accused the authorities of incompetence.
"Joe Biden let a Chinese spy balloon fly across the entire US. Now he's shooting down everything it flies. Why?" wrote the politician on Twitter. "EITHER the Biden Administration is lying to us or they are totally and utterly incompetent. Or both," she added.


Source: RT