The president spoke of the testimony presented in a New York court by Raul Arellano Aguilera, a former member of the Federal Police who between 2007 and 2011 was assigned to the Mexico City International Airport (AICM).
Mexican President Andres Manuel Lopez Obrador spoke this Wednesday about the recent testimony presented in the US trial against Genaro Garcia Luna, Mexico's former Secretary of Public Security, by a former agent who offered his version of the alleged corruption of the Federal Police at the Mexico City International Airport (AICM).
"Many already know how they put drugs through the airport. Once there was even a shooting there at the airport", declared Lopez Obrador in his morning conference on Wednesday, adding that the police officers had a code at that time to order that surveillance be suspended, "to pass drugs."
order of high command
The president spoke about the testimony of Raul Arellano Aguilera, a former member of the Federal Police who was assigned to the Mexico City International Airport between 2007 and 2011, during the government of PAN member Felipe Calderon (2006-2012), when Garcia Luna was the secretary of Public security.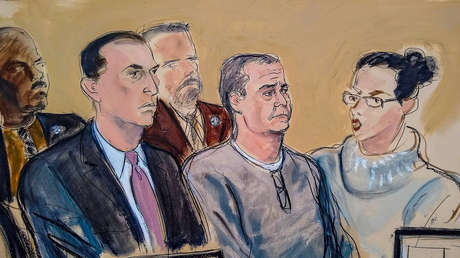 During his appearance on Tuesday in the Eastern District Court of Brooklyn, in New York, Arellano Aguilera recounted that Federal Police officers received an order from high command from time to time, under the code "For 45 in 35", which implied that for a couple of hours they stopped carrying out inspections or patrols at the AICM.
During this period, presumably drugs, money and weapons circulated freelyaccording to the former Mexican agent during the eighth day of hearings in the trial against Garcia Luna.
Trial of Garcia Luna
So far, drug traffickers and former officials from Mexico and the US have testified in the trial, including Sergio Villarreal Barragan, alias 'El Grande', a major operator of the Beltran Leiva Cartel; Tirso Martinez Sanchez, 'El Futbolista', who worked with the Sinaloa and Juarez cartels; Ernest Cain, a retired Chicago police officer; and five agents of the Drug Enforcement Agency (DEA, for its acronym in English).
Garcia Luna is prosecuted for having received bribes from the Sinaloa Cartel in exchange for providing key information to that criminal organization. In particular, the former secretary faces charges for five crimes: in three cases it is an international conspiracy to export cocaine and other drugs to the US, another is for organized crime and one more for having lied to a federal immigration agent in 2018.
Source: RT