The Brazilian president expressed that he dreams "of a currency other than the dollar."
The president of Venezuela, Nicolas Maduro, announced this Monday during a joint press conference with his Brazilian counterpart, Luiz Inacio Lula da Silva, that Venezuela "would like to be part" of the BRICS block of countries, among which is the Amazonian giant.
"If they ask: do you aspire to be accepted by the BRICS? Venezuela says yes, we would like to be part of the BRICS, of modest wood," Maduro said from Brasilia.
Brazil, Russia, India, China and South Africa make up this initiative that emerged in 2009 from emerging nations that, according to data, represents 31.5% of world GDP.
"Venezuela would like to be part of the BRICS and accompany the construction of this new architecture, of this new global geopolitics, of the new world that is already being born," Maduro highlighted.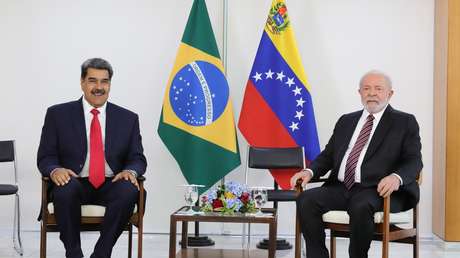 For his part, Lula emphasized that one of his main objectives is for the BRICS to have their own currency, as is the case in the European Union.
"I dream of a currency other than the dollar that allows us to negotiate with the countries that supply products and with which we trade", he pointed out.
Ripe in Brazil
The Chavista leader arrived this day in Brasilia to participate this Tuesday in the Summit of the Countries of South America, in which the majority of the region's presidents will be present.
In addition, this meeting means the resumption of relations at the highest level between both nations, which occurred during the past administration of Jair Bolsonaro (2019-2022).
"I hope that never again in the history of Brazil will we see ourselves in the situation of breaking relations with another country, as happened with Venezuela," Lula said.
Source: RT