The Venezuelan president said that the region has a "great opportunity" to "build an immense bloc of political, social, economic and cultural power."
The president of Venezuela, Nicolas Maduro, urged on Monday the member countries of the Community of Latin American and Caribbean States (Celac) to present themselves as "a unitary bloc" to move towards the "new world" that is currently being built from of multilateralism and pluripolarity.
"A new world is about to be built, that new world is already being born with great force, and Latin America and the Caribbean must live up to, at the level of that world that is being born and present itself as a unitary block, with its own identity, with its own proposals", express Maduro during the inauguration of the Meeting of Ministers and High Authorities of Science, Technology and Innovation of Celac that takes place in the Aquiles Nazoa Cultural House, in Caracas, Venezuela.
The Venezuelan president stressed that currently it can be seen that each day the creation of a new international order emerges "with more force"where countries bet to relate in terms of equality and respect.
I share the Official Photo of the First Meeting of CELAC Science and Technology Authorities held in Venezuela. We are part of a new world of union, cooperation and respect. We are united in the diversity of our countries and peoples. pic.twitter.com/lL6P8YsRpN

— Nicolas Maduro (@NicolasMaduro) June 26, 2023
"Increasingly stronger manifests the emergence of a new world, a world without empires, without hegemons, a multipolar, multicentric, pluripolar worldwhere we can all see each other in terms of equality, where we all achieve respect for our political and cultural identity," he said.
Maduro added that one of the most important things is the construction of a Latin American and Caribbean identitythat it "position itself in the spirit of the peoples of the continent."
"That let's see the region as a great opportunity to build a huge power bloc political, social, economic, cultural, of integral power, that puts us in the rhythm and in the level that is deserved to be able to transit this XXI century", indicated.
Common policies on diversity
Meanwhile, Maduro stressed that "the most important thing" is that CELAC bet on the unification of public policies and government actionsto have the capacity to impact the daily, social and economic life of the peoples of the region.
In this sense, he proposed create a unitary center for scientific and technical researchthat concentrates and coordinates the experiences of regional public policies and jointly attend to the most urgent needs demanded by the population.
Maduro explained that a center of this type can serve to articulate, advance in policies, actions and in the common agenda for the well-being of the 33 countries of the region. "A center where we can articulate all the advances with an agenda of priorities" from science, applied technology and socioeconomic studies, he said.
Venezuela's proposal in CELAC is to found a Latin American and Caribbean Center for Applied Science and Technology Research for our peoples. There we will be able to articulate the construction projects of our continent, and seek solutions for Living… pic.twitter.com/LD4ykvaeUp

— Nicolas Maduro (@NicolasMaduro) June 26, 2023
The Venezuelan president also called on Celac to build a "unitary perspective" that is built from the "diversity of countries and their peoples", with "an identity that expresses all this diversity" and is complemented by the transversality of "common policies in sensitive matters of daily life" of the population.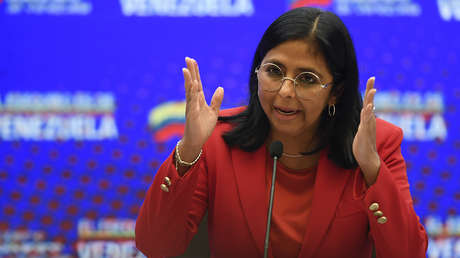 Maduro added that the progress of the region towards that near future also includes defeat "empires and hegemons" in "the struggle for a new world" that privileges "independent, sovereign and free peoples" through cooperation among equals.
"The struggle for a new world, without wars, a world of peace, is becoming more intense (…) that world already exists, is being born, and Latin America and the Caribbean is already part of that new world".
If you liked it, share it with your friends!


Source: RT