The spokeswoman for the Russian Foreign Ministry indicated that the French president openly acknowledged that the West "has tried to change power" in Russia.
The spokeswoman for the Russian Ministry of Foreign Affairs, Maria Zajarova, ironized this Sunday about the recent statements by the President of France, Emmanuel Macron.
Zajarova referred to Macron's statements that France has never wanted to crush Russia, so it will not support that position, and that the conflict in Ukraine "will not end militarily." "About 'never'. France did not start with Macron, and the nationally venerated remains of Napoleon rest in central Paris. So that both France and Russia understand everything," the senior diplomat wrote on her Telegram account.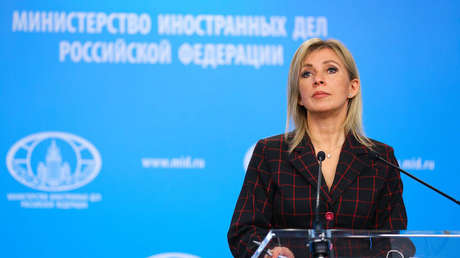 Likewise, the spokeswoman for the Russian Foreign Ministry recalled that France is part of NATO which "included Russia as adversary in all documents". "Paris could have resisted, but it could not do anything and it was in solidarity with that," he said.
"The arms deliveries against the backdrop of the claims that Russia cannot win, they leave no other logical conclusion: that they point to our defeat," Zakharova stressed.
On the other hand, he recalled that Macron declared in the framework of the 59th Munich Security Conference that he does not believe in "regime change" in the Eurasian country, since in recent decades there have been many attempts and all were "a total failure". "Macron is priceless. He openly admitted that all these years the West has not only interfered in the internal affairs of Russia, but also has tried to change the power", denounced the high diplomat.
"In other words, it has not stopped trying to start talks with the Russian leaders, knowing that it has been unleashed against the country an unconstitutional campaign to change the government. 'Сharmant' [encantador, en frances]as they say," he stressed.
Source: RT