The electoral political scenario of Argentina with a view to the general elections on October 22 was modified with the resignation of former President Mauricio Macri to be a candidate, a decision that had an impact on the internal fights of the two main political forces in the country.
The day before, the former president confirmed through a video posted on his social networks that he will not run for any position, ending months of speculation.
"I want to ratify the decision that I will not be a candidate in the next election," he said in a message in which criticized President Alberto Fernandez and Peronism in general.
🔴 OFFICIAL: Macri got out of the next elections. It's an elegant way of recognizing the obvious: that he was the WORST President in history and he can't come back 👋 pic.twitter.com/A28SRD2CKC

— Sergio Chouza (@SergioChouza) March 26, 2023
This was one of the definitions that was expected with a view to the presidential elections, since until last weekend Macri was still part of the group of pre-candidates for the conservative alliance Together for Change.
The right-wing coalition drags months of hard internal confrontations in pursuit of a candidacy to which the head of Government of the City of Buenos Aires, Horacio Rodriguez Larreta; the former Minister of Security, Patricia Bullrich; and the deputy Mary Eugenia Vidal.
Now without Macri on the list of candidates, it is expected that his role will be to temper the fights in Together for Change to prevent them from having an impact on the electoral results.
The ex-president's announcement did not surprise as much as the reaction of politicians and the Macrista press, since no one asked him to reconsider his resignation.
In a policy where everyone seeks to perpetuate himself, Mauricio Macri leads with greatness and experience, truly betting on change while others talk about change but only offer more of the same. Thank you for your example President @mauriciomacri. It's change or it's nothing! pic.twitter.com/0jco0ZOZsH

—Luis Petri (@luispetri) March 26, 2023
reactions
Once Macri published his video, a media operation was launched to install it as "a statesman" and "thank him" that, in a "historic" decision, with "greatness" and "generosity", he has left behind "the ego" so as not to run again.
"Once again and as he has done throughout his life, Mauricio Macri makes a decision that makes it clear his enormous vision, his generosity, courage and love by the Argentines," said Rodriguez Larreta.
"Mauricio Macri's historic decision confirms his greatness and generosity. Even though he could be president again, he has prioritized the interests of our country before his own, as very few leaders have done in Argentine history," said Bullrich, who is the candidate closest to the former president.
Vidal, for his part, called on Together for Change to end the internal fights and design an economic project together.
We are responsible for guaranteeing and defending the values ​​that Mauricio managed to establish in Together for Change, beyond any election. Together with millions of Argentines who demand unity, work and firmness, we are going to recover Argentina. pic.twitter.com/YebV9zQ6ZJ

— Maria Eugenia Vidal (@mariuvidal) March 26, 2023
"I know that many Argentines may be sad with the news that Mauricio will not be a candidate. The best way to accompany us is to consolidate the space that he founded (…) we have to guarantee that the values ​​that Mauricio managed to establish are firmly defended, even beyond this election (…) we have to ensure unity, agree on clear and constructive rules for the campaign," he said.
The Macrista press was full of praise. Some columnists even called him a "hero" and they compared him with the Argentine hero Jose de San Martin; the late British Prime Minister Winston Churchill, or the former Spanish President Felipe Gonzalez.
From the opposition to macrismo, on the other hand, they lowered the epic tone to the resignation of the former president.
Memory
Amid the uproar caused by Macri's announcement, his critics warned that he actually withdrew from the race because, since he left power in December 2019, polls have consistently shown a largely negative image and low voting intention of 20%.
According to polls in recent months, The government headed by Macri is described as "bad" by more than 60% of citizens, while, on a personal level, his positive balance barely oscillates between 25% and 35%, while the negative always exceeds 50%, which makes him one of the political leaders with a more worn-out image , similar to that of former President Cristina Fernandez de Kirchner, her main antagonist.
Greatness? Humility? Wisdom? Nothing to do with it. Pure calculation. Mauricio Macri resigned from a postulation that had already abandoned him. Despite the histrionic resignations, when we woke up, the crisis of representation was still there 👇 pic.twitter.com/dj8hXucwKW

— Fernando Rosso (@RossoFer) March 27, 2023
Macri's opponents also recalled that the former president ended his administration with record levels of debt, poverty, devaluation and inflation, which explained why he could not be re-elected in 2019 and that he lost to Alberto Fernandez.
Beyond the criticism, the ex-president's decision also had an impact on the Front of All, the alliance pro-government party headed by the president and vice president and which, like Together for Change, is holding a strong internal battle that from time to time threatens a break.
Both Fernandez and Fernandez de Kirchner are pre-candidates to run for president this year with the hope that Peronism will retain power, despite the serious economic crisis that the country is suffering and that has far exceeded the levels of debt, poverty, devaluation and inflation that they inherited from macrismo.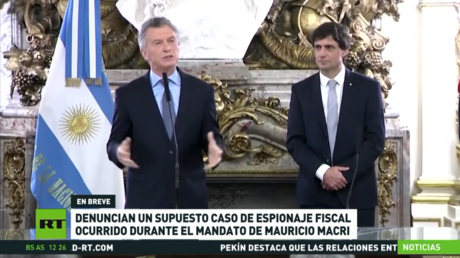 With Macri's resignation, public pressure was reinforced so that the president and vice president also announce that they will not be candidates but, within the coalition, Kirchnerism began a strategy to demand that Fernandez Let him be the one to confirm that he will not seek re-election.
According to various reports in the Argentine press, Fernandez, who is on tour in the US and will meet President Joe Biden this week, refuses to give up his nomination.


Source: RT