The authorities have deployed more than 700 agents on the streets of different cities and more than 130 people have been arrested.
The attacks by criminal groups in various cities in the state of Rio Grande do Norte, in northeastern Brazil, have been a week old this Monday and the Minister of Justice, Flavio Dino, has launched a series of measures to confront the violence that terrifies citizens.
From Natal, the state capital, and where violent disturbances were recorded again last morning, the minister announced an investment of 100 million reais (about 19 million dollars) for this year in the security of this state.
The Federal Government will assume three major works in Rio Grande do Norte – at the headquarters of the Civil Police complex and the Military Police Regiment, and another at the Scientific Police Institute – that were to be financed by the state.
In this way, the governor, Fatima Bezerra, will be able to allocate part of the money to face the current crisis.
or minister @FlavioDino has just announced an investment of R$ 100 thousand in RN insurance. The National Secretary of Public Security will assume the costs of 3 very important works for the state: the ITEP, the PMRN cavalry regiment, and the Civil Police complex. pic.twitter.com/aqaPaVu6Ql

— Fatima Bezerra (@fatimabezerra) March 20, 2023
"This support means that state resources earmarked for these works are now available to be used for other needs, such as the acquisition of vehicles and weaponsBezerra explained.
The governor indicated that thanks to the help of the Federal Government "the work and rehabilitation programs for convicts will also be promoted, in addition to the purchase of equipment such as body scanners and electronic anklets."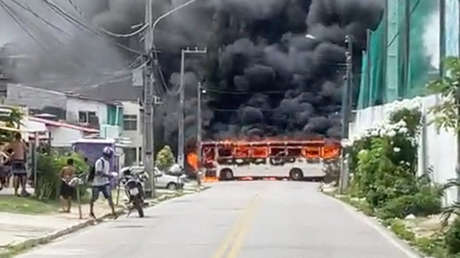 The authorities confirmed that the wave of attacks is intended to demand "a series of privileges" from the prisoners that have not been granted.
In addition, the National Mechanism for the Prevention and Combat of Torture (MNPCT) denounced last week the poor conditions in which the inmates live and assured that after visiting five prisons, it was able to verify cases of physical and psychological torture.
Since March 14, criminals have attacked 51 cities and carried out 284 assaults. In addition, more than 700 agents have been deployed on the streets and more than 130 people have been arrested.
In the spotlight is the Sindicato do Crime (SDC) faction, which runs the state prisons and was born in 2013 to confront the Primeiro Comando da Capital (PCC), the most powerful criminal organization in Brazil.


Source: RT