The president referred to the Bolsonaro takeover on Sunday and commented that he would not like to think that it was an attempted coup.
The president of Brazil, Luiz Inacio Lula da Silva, who took office on January 1, regretted this Wednesday that former president Jair Bolsonaro continues without acknowledging his defeat in the last elections.
"Unfortunately, the president who left power on December 31 does not want to admit defeat. Even today I saw statements from him in which he continues to not acknowledge defeat," Lula said, referring to a video that Bolsonaro published on his social networks – and that later erased–, in which he questioned the result of the elections.
Lula made this statement during a meeting at the Planalto Palace, the seat of the Brazilian Executive, with the president of the Chamber of Deputies, Arthur Lira; the vice president of the Senate, Veneziano Vital do Rêgo, and other deputies and senators of the country.
In the meeting, Lula also referred to the assault carried out by the Bolsonaristas last Sunday at the offices of the Presidency, Congress and the Supreme Court in Brasilia, and tried to downplay the magnitude of what happened.
"What happened here I would not like to consider as a coup, I would like to think of something smaller, who knows, a bunch of cranks who still don't understand that the election is overwho still do not want to accept that the electronic ballot box is possibly the most perfect electoral model that we have in all the countries of the world," said the Brazilian president.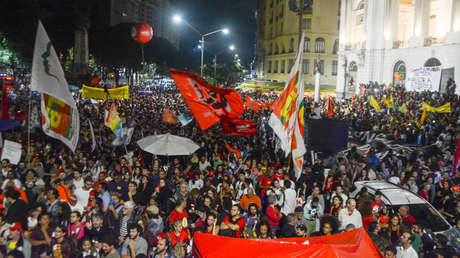 He also added: "I can only consider that it is a group of crackpots, of a group of people with little sense of the ridiculousbecause they have already filed appeals before the Justice, and the Justice not only reaffirmed the result of the polls, but also sentenced the party that questioned the elections to pay a large fine," he said.
Gratitude
In the meeting with the parliamentarians, Lula thanked them for the approval of the presidential decree that established the intervention in matters of public security in the Federal District.
The decree, which the president signed on Sunday, was approved on Monday in the Chamber of Deputies and the following day in the Senate.
The measure, which will last until January 31, allows the president to mobilize the military force in that area. The person in charge of leading the intervention is Ricardo Garcia Capelli, current executive secretary of the Ministry of Justice.
Source: RT