The Mexican president urged legislator Lindsey Graham to work to curb the illegal arms and drug trade within the North American nation.
The Mexican president, Andres Manuel Lopez Obrador, questioned this Wednesday the Republican senator for South Carolina, Lindsey Graham, about what the US is doing to stop the flow of fentanyl in its territory.
In the framework of appearances before the Senate by Joe Biden's cabinet, Graham pressured the US Secretary of State, Antony Blinken, and the head of the Department of Homeland Security, Alejandro Mayorkas, to respond if the cartels drug traffickers controlled some regions of the Mexican territory.
Both Blinken and Mayorkas answered the question in the affirmative, so this Wednesday Lopez Obrador spoke out to deny that position: "I maintain that anyone can go to any part of the national territory. There are risks in some regions more than others, in some cities more than others, but life remains unchanged throughout the country," the president said.
The answer to Graham
Graham maintains an active warlike discourse and against the sovereignty of Mexico, being one of the main promoters of the initiative that US declares drug cartels terrorist organizationswhich would open the possibility of the deployment of the US Army in the neighboring country.
In a context in which the Republican sector disapproves of Mexico's work in the fight against drug trafficking, without evaluating the responsibility of the US to reverse the opioid crisis in that nation, Lopez Obrador asked Grahan:
Who distributes fentanyl in the US?
Are there local cartels that distribute fentanyl in the North American territory?
Those who distribute fentanyl in the US, Are they Mexican or American?
Are those who distribute fentanyl in the US persecuted and punished?
What programs do you have to support young people in the US so that they don't use drugs?
Questions to the US
In addition, Lopez Obrador questioned the flexible arms policy of the United States, since it is closely linked to the violence perpetrated by criminal organizations in Mexico.
"Can you buy a machine gun or a high-powered weapon in US supermarkets? Yes or no," he asked the Republican senator.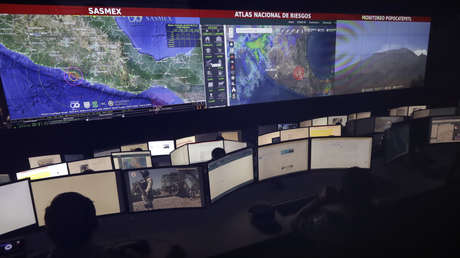 "The senator, who is so influential, can do a lot to prevent these deaths. For example, gun control, going after those who distribute fentanyl in the US, approving a campaign of information, guidance on the harm caused by fentanyl", said the president.
According to Lopez Obrador, only 25% of the fentanyl consumed in the US comes from Mexico.
"75% of it comes from the US and from Canada. Also consider that we do not produce fentanyl. It comes from Asia, we are helping so that there is no fentanyl trafficking, and we do so not out of fear of their interventionist threatsbut we do it out of humanitarian convictions," he concluded.
Source: RT