The president asserted that this measure by the Republicans is a Republican strategy to try to "deceive" the voters.
The president of Mexico, Andres Manuel Lopez Obrador, described as "very vulgar publicity actions" the installation of a chain of giant buoys in the Rio Grande, also known as the Rio Grande, to hinder the entry of migrants from Mexican territory.
"They do it to try to deceive the American people, the Texans, that they are very strict and they are going to prevent migrants from arriving, who are the ones who bring or take drugs to the US and harm them a lot, to the Americans. pure story, pure lie", said the president in his morning press conference this Monday.
He added that what the Republicans do "is politicking" and not politics. When asked about the actions that Mexico would take in view of the measure adopted by the Texas government, which began the installation of this 'floating wall' on Saturday, July 8, Lopez Obrador said that "there is not much to do" and that " It's not to be taken seriously."
"Just tell our countrymen that do not vote for the governor of Texas (Greg Abbott) or for the legislators of the Republican party who support these measures," he said.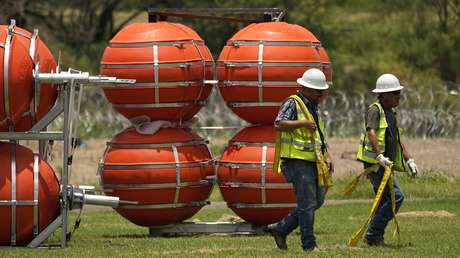 diplomatic note
Last Friday, the Mexican Foreign Relations Secretary, Alicia Barcena, reported that she had sent a diplomatic note to the US authorities. because the measure would be violating an old treaty.
"We have sent a diplomatic note because, in reality, what is being violated is the Water Treaty of 1944", said the foreign minister in a meeting with journalists, referring to the document signed between the US and Mexico.
Article 17 of this treaty states that "the use of the international riverbeds for the discharge of flood waters or other surpluses will be free and without limitation for the two countries."
The official commented on the sending of a territorial inspection missionthrough the International Boundary and Water Commission, to define "where these buoys are located, what is happening and, of course, carry out this topographical survey to verify that they do not cross Mexican territory."
Source: RT