This is the first trip to South America that he has made as president of Mexico.
The president of Mexico, Andres Manuel Lopez Obrador, begins official visits to Colombia and Chile this Friday, where he will have different activities with his counterparts Gustavo Petro and Gabriel Boric, respectively.
On his first tour of South America, Lopez Obrador begins his trip in Colombia. In this country he will move to Cali, in the department of Valle del Cauca, where he will participate with Petro in the closing of the Latin American and Caribbean Conference on Drugsan event organized by the Foreign Ministry and the Directorate for the Substitution of Crops for Illicit Use of the Presidency of the Republic.
Lopez Obrador's visit had already been announced at the end of last year, after the invitation that Petro extended to him on his official trip to Mexico, in November 2022; and the specific date was reported in July, after a meeting between the Colombian Foreign Minister, Alvaro Leyva, and his Mexican counterpart, Alicia Barcena, in Brussels.
In Colombia, Lopez Obrador will be until next Saturday, September 9, to then travel to Santiago de Chile.
Anniversary of the coup
On Chilean soil, the Mexican president will participate in the commemorative events for the 50th anniversary of the coup d'etat against Salvador Allende, which occurred on September 11, 1973.
In addition to Lopez Obrador, the Chilean Government reported, there will be Petro and his counterparts from Argentina, Alberto Fernandez, and from Uruguay, Luis Lacalle Pou. In addition to the Prime Minister of Portugal, Antonio Costa.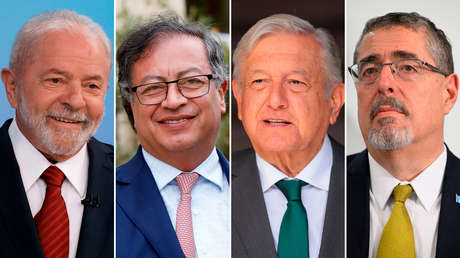 On August 3, in his morning press conference, Lopez Obrador, when speaking about this trip to Chile, referred to the coup against Allende and the death of this former president, of whom he declared himself an admirer.
"He is one of the political leaders in the world that I most admire because he tried, before others, he was one of the precursors in seeking transformation through peaceful means, he never stopped fighting through peaceful means, through electoral means. And in those times it was maintained that changes could not be achieved except by armed means, and he never opted for violence. Therefore, what the coup plotters did in Chile was more than a scoundrel, more than a crime," he said at the time.
On that occasion, he said that, in addition, will meet with Chileans who were exiled in Mexico after the coup d'etat. He pointed out that the meeting will be at the Mexican embassy in Santiago, where they were provided protection.
"They are one of the very good things about Mexico's foreign policy at almost all times. The asylum policy is something that honors us, dignifies us, places us at a higher level in terms of foreign policy, that has always been taken care of. That's why Mexico is known in Latin America as the big brother," he said.
Avoiding the sky of Peru
The tour is preceded by controversy. Lopez Obrador announced on Wednesday that he will surround Peru's airspace to not having to request authorization from the Government of Dina Boluarte. "We are going to take a detour to get to Santiago de Chile, we have one more hour of flight," he explained during his account of the details of the trip.
President Lopez Obrador revealed his weekend itinerary for his tour of South America. He assured that, to avoid any conflict with the Government of Peru, he will avoid passing through its airspace when he goes to Chile, "so that they don't do something stupid to him." pic.twitter.com/Fg1sP6ItPl

— Joaquin Lopez-Doriga (@lopezdoriga) September 6, 2023
Behind this decision is the diplomatic tension between Mexico and Peru. "It's to prevent them from doing something stupid to us because, As it is public and notorious, we do not have good relations with the Government of Peru," explained the Mexican president.
The disagreement between the two nations began after Lopez Obrador condemned what he called a "coup" against former Peruvian President Pedro Castillo, on December 7, when he was dismissed after his failed maneuver to dismiss Congress and convene a Constituent Assembly.
Since then, he has expressed his support for Castillo and his rejection of Boluarte remaining in power, heavily criticized this week for the brutal repression of protests against his Government, which claimed the lives of at least 67 people.


Source: RT