Britain's Secretary of State for Scotland has said he will block the proposal from going before the King for approval.
London has decided to block the Scottish bill for gender self-determination. The Secretary of State for Scotland of the British Government, Alister Jack, announced that he will activate this Tuesday article 35 of the Scotland Law of 1998, which allows preventing the presentation of the legislative initiative before the king for approval, the last step necessary to let it become law.
Jack explained in a statement that he did not take the decision to block the Scottish proposal "lightly". "After carefully and exhaustively weighing all the relevant advice and policy implications, I am concerned that this legislation has a adverse impact on the operation of equality legislation across Great Britain", he declared.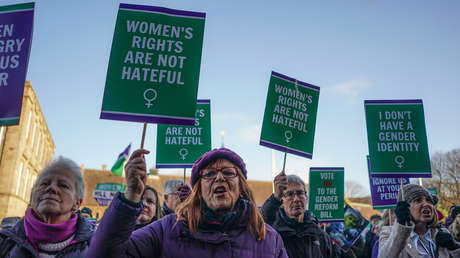 Scotland's Chief Minister Nicola Sturgeon dismissed Jack's remarks as a "frontal attack" on the "democratically elected Scottish Parliament and its ability to make its own decisions on delegated matters."
"The Scottish Government will defend legislation and fight for the Scottish Parliament. If this Westminster veto is successful, it will be the first of many," Sturgeon wrote on Twitter. Twitter.
The gender self-determination bill in Scotland, approved in December last year by the local Parliament, has become a focus of political tension between London and Edinburgh.
The new rule, which would allow a citizen to self-identify as transgender without the need for medical check-ups, lowers the legal age limit to change gender from 18 to 16 years. In addition, it reduces the time that a trans person must live with their acquired gender to only three months to be able to change their documents.


Source: RT