The update of the agreement on migrants with the African country would extend its application to "all categories of people" who enter the United Kingdom illegally.
The UK Home Secretary, Suella Braverman, signed an update on Saturday to the country's migrant agreement with Rwanda to extend its scope to "all categories of people who cross the safe countries and perform illegal and dangerous travel"to British territory.
With this step, British officials aim to launch deportation flights to Rwanda "by the summer", reports Sky News, citing a government source, adding that the measure "will close all legal loopholes" for illegal migrants, including those who claim to be victims of modern slavery.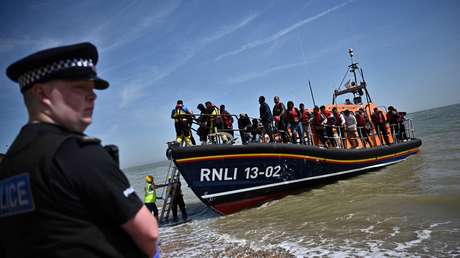 In an official statement, the UK Home Office said the updated agreement with the African country will allow them to implement the Illegal Migration Bill, "as it will mean that anyone who arrives illegally to the UK – and cannot be returned to their country of origin – will be fit to be relocated to Rwanda".
The British government plans to send tens of thousands of migrants to Rwanda under the agreement reached last year. So far, no one has made that trip. In June 2022, a flight was stopped at the last minute after an appeal to the European Court of Human Rights (ECtHR).
The policy of sending asylum seekers to Rwanda, pushed by former Home Secretary Priti Patel, of Indian roots, has been described by critics as shameful and one of the most pernicious in the recent history of Britain's ruling Conservative Party.
Human rights groups say the deal is illegal and inhumane, as it seeks to send people to a country they don't want to live in and one that also has a poor human rights record.
Source: RT