"Being president, I could have declassified it. I can't do it anymore, so it's still a secret," the president told a group of interlocutors in the recording.
The US Attorney's Office has managed to obtain an audio recording in which former US President Donald Trump, indicted on federal charges earlier this month, appears to discuss classified material with unauthorized persons after leaving office.
According to CNN, which reported on the case on Monday and published the recording itself, Trump met in the summer of 2021 with some people who were helping to write an autobiography of former White House Chief of Staff Mark Meadows.
In the recording you can hear how the former president removes papers and talks about the alleged plan of the head of the US Joint Chiefs of Staff, General Mark Milley, to launch an attack against Iran, which he describes as "highly classified" information. and "secret". "He said that I wanted to attack Iran, isn't it amazing? I have a lot of papers," he said, noting that his words were "off the record."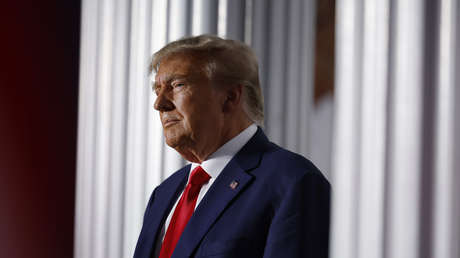 Later, referring to one of the documents, Trump acknowledged that he could not declassify it, since he was out of office. "As president, I could have declassified it. I can't do it anymore, so it's still a secret," he said. Then one of his interlocutors said: "Now we have a problem."
It should be noted that a redacted transcript of the recording was included in the indictment of Jack Smith, the special counsel tasked with investigating Trump's handling of classified documents, and is presented as key evidence in the case.
According to the US media, the appearance of this complete recording could undermine the former president's claims made in an interview last week in which he assured that he did not have any secret documents during the meeting. "There was no document. It was a huge amount of papers and everything else was talking about Iran and other things. And it may have been withheld or it may not, but that was not a document. I didn't have a document. There was nothing to declassify. They were stories from newspapers, magazines and articles," he said.
Trump faces 37 charges for allegedly keeping classified material at his Mar-a-Lago residence at the end of his presidential term, refusing to turn them over to the FBI or the Department of Justice for more than a year. In his appearance before a court in Miami a few weeks ago, the former president pleaded not guilty. He claimed that the accusation against him is motivated by political interests, calling it an attempt by the Biden Administration to get rid of his main opponent in the upcoming election.
Source: RT