Sandra Avila Beltran, who spent five years in prison for crimes related to drug trafficking, considers that the character of the popular television series was inspired by her.
Sandra Avila Beltran, better known as 'La Reina del Pacifico', filed a lawsuit against Telemundo and Netflix for the unauthorized use of her image in the series 'La Reina del Sur', for which she demands 40% of the royalties.
Avila Beltran, who was in prison for five years in Mexico and the US for his links to drug trafficking, filed a complaint against the channel and the online video platform with the Mexican Institute of Industrial Property (IMPI). Later, he could take this case to court, published Milenio.
If in the process before the IMPI the institution rules in his favor, his defense considers that he could claim up to four out of ten dollars of the novel written by the Spaniard Arturo Perez-Reverte, broadcast by Telemundo and sold to subscription video platforms.
The plaintiff considers that the character of Theresa Mendozaprotagonist of 'La Reina del Sur', played by Mexican actress Kate del Castillo, has been inspired by her, without her approval.
Avila Beltran points to the US network Telemundo because the images of his arrest in Mexico, in 2007, were used in a news broadcast on that channel, on April 19, 2019, to promote the second season of the series that could be inspired in their life.
Who is 'The Queen of the Pacific'?
Although she was accused of the crimes of money laundering and drug trafficking, these accusations could not be proven in the Mexican courts, although it was determined that she gave financial support to a person linked to drug trafficking, reports El Financiero.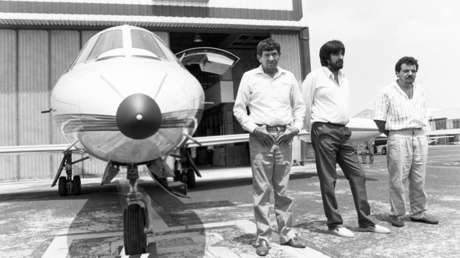 The authorities accused her of being an intermediary between Colombian drug traffickers and the Sinaloa cartel, led at the time by Ismael 'El Mayo' Zambada and Joaquin 'El Chapo' Guzman.
In 2012, she was extradited to the US, where she pleaded guilty to importing and distributing drugs. She was sentenced to 70 months, equivalent to five years in prison. In 2013 he returned to Mexico and finished his sentence in the Nayarit prison, in 2015, after a court revoked his sentence of five years in prison.
Avila Beltran, who after years away from the media opened a TikTok channel, which already has 194,000 followers, recently declared in the media that former Mexican President Felipe Calderon used her as "scapegoat" to hide his alleged ties to drug cartels.
The 'Queen of the Pacific' is the niece of Miguel Angel Felix Gallardo, founder of the disappeared Guadalajara cartel. Her partner, with whom she was arrested in 2007, was Juan Diego Espinosa, "El Tigre", accused of trafficking at least nine tons of cocaine in the port of Manzanillo, a port city on the Pacific, together with her.
Source: RT