The commander-in-chief of the Ukrainian Armed Forces said his country also agreed with Denmark "to start working on logistics to ensure maintenance and repair" of the fighters.
Some Ukrainian pilots have already completed a preparatory course in Denmark to pilot the F-16 fighters and flight training can begin, the commander-in-chief of the Armed Forces of Ukraine, Valeri Zaluzhny, revealed this Wednesday on his Telegram channel.
Zaluzhny had telephone conversations with the chief of the General Staff of the Danish Armed Forces, Flemming Lentfer. "General Lentfer said that some of our pilots have already successfully completed the preparatory activities and can start flight training," he wrote.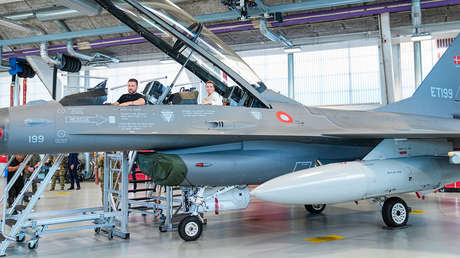 "In addition, we have agreed with our Danish partners to start working on logistics to ensure the maintenance and repair of the F-16 fighters in Ukraine," he added. He also thanked the Danish people and government for the decision to transfer 19 F-16 fighter jets to kyiv.
Denmark last week launched a training program for eight Ukrainian pilots, as part of its commitment to supply the fighters to Ukraine. In addition to pilots, some 65 servicemen arrived at the Danish airbase in Skrydstrup to train in the maintenance and repair of combat aircraft.
Russia has on more than one occasion condemned the supply of Western weapons to kyiv. Russian Foreign Minister Sergei Lavrov stated in July that Moscow would regard the delivery of F-16 fighters to kyiv as a nuclear threat, as his country "can't ignore the ability of these aircraft to carry nuclear weapons".
Source: RT