The Office of the UN High Commissioner for Human Rights highlighted its concern about the activities of the State directed against the religious institution.
The spokesman for the Ukrainian Ministry of Foreign Affairs, Oleg Nikolenko, described as "unbalanced" the report presented by the Office of the United Nations High Commissioner for Human Rights (OHCHR) on the situation facing the Ukrainian Orthodox Church in the country. Moscow Patriarchate (UPTs, for its acronym in Russian).
"We urge OHCHR to refrain from conducting unbalanced political assessments and base your reports on facts," Nikolenko wrote on social networks on Monday. The official referred to the document published last Friday, in which the UN highlighted its concern about the possibility that state activities directed at the Ukrainian Orthodox Church "could be discriminatory".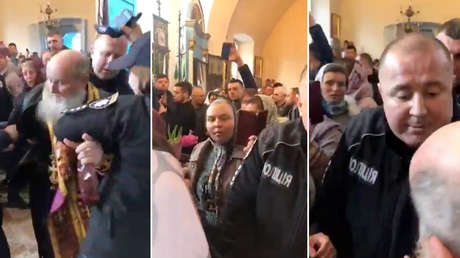 In addition, it is noted that the Security Service of Ukraine (SBU, for its acronym in Ukrainian) "made records" (sometimes called "security measures") in various monasteries, offices, educational facilities and other properties of the Orthodox Church in different regions of the country.
In that sense, Nikolenko argued that freedom of religion is guaranteed in Ukraine. However, he indicated that this does not mean that they have "right to engage in activities that undermine national security".
On March 10, Ukrainian authorities demanded that the monks of the Kiev Monastery of the Caves leave the facilities before March 29, under the pretext of prohibiting the activities of organizations related to Russia.
For his part, Patriarch Kirill, head of the Russian Orthodox Church, addressed religious leaders and representatives of international organizations, asking them to "do everything possible" to prevent the expulsion of the monks from the Kiev Monastery of the Caves.
The UPTs for years lives under a wave of pressures from kyivwith temple searches in search of alleged anti-Ukrainian activities.
Source: RT