The North Korean leader encouraged the military to perform "ever victorious feats" in "vigorously defending" the homeland and use "unparalleled military force" to achieve "historic victories."
The North Korean leader, Kim Jong-un, ordered the country's Armed Forces to expand its combat exercises and reinforce military preparation for a possible war conflict.
During a meeting of the Central Military Commission of the ruling Workers' Party, it was agreed to take measures to "fundamentally improve and strengthen" military work, as well as "expand and intensify the training of the Army" "to deal with the prevailing situation and refine more strictly preparation for war", the state news agency KCNA reported on Tuesday.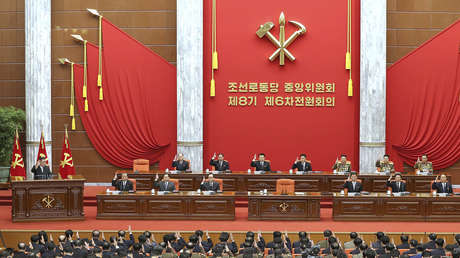 Likewise, Kim Jong-un encouraged the Armed Forces to carry out "ever victorious feats" when it comes to "vigorously defending" the homeland, use a "unmatched military strength" to achieve "historic victories" for their people and contribute to "a new chapter of development in the history" of the country.
The meeting comes against a backdrop of indications that Pyongyang plans to hold a military parade marking the 75th anniversary of the founding of the Korean People's Army, which could serve as an occasion to showcase its novel nuclear weapons, AP reports. .
According to Lee Sung-jun, a spokesman for the South Korean Joint Chiefs of Staff, the South Korean military detected the "significant increase in personnel and vehicles" in areas where rehearsals for the parade could take place, but refused to share information about it. the date the event would take place.
Kim Jong-un's military promises
By the end of 2022, the North Korean leader had assured that his country would "exponentially" increase the number of nuclear warheads. According to him, South Korea is a "clear enemy" and that is why Pyongyang needs to produce more tactical nuclear weapons.
At that time, Kim Jong-un ordered that everything possible be done to manufacture weapons in order to "frighten" the US and South Korea, and stated that a new type of ICBM with rapid attack and retaliatory capabilities should be developed. He also noted that his country would launch the first military spy satellite in the near future.
The North Korean leader accused Washington and Seoul of carrying out an "unprecedented plot" to "isolate and strangle" Pyongyang. "The situation today demands that our country redouble its efforts to overwhelmingly strengthen our military power in order to safeguard our sovereignty, security, and basic national interest in dealing with dangerous US military movements and other hostile forces attacking us. "Kim Jong-un stressed.
Source: RT