Tokyo's decision has sparked strong criticism from the local fishing community and its immediate neighbors, sparking protests even in South Korea.
Environmental and social experts from across Asia have called on Japan to refrain from polluting the sea with radioactive sewage, reports China Daily.
Japan's plan calls for Tokyo Electric Power Co. (TEPCO), operator of the Fukushima plant, to dump more than one million tons of radioactive water treated which was used to cool the reactors of the nuclear complex after the 2011 accident, caused by a magnitude 9.0 earthquake.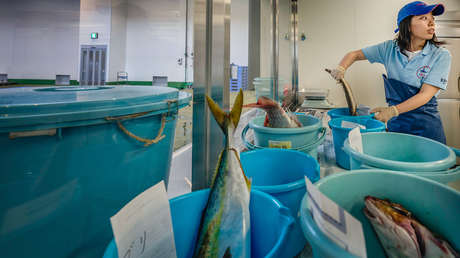 However, after Tokyo actively began preparations for its plan last week, specialists raised the alarm, warning of the dangers of releasing such substances.
"An easy and comfortable landfill"
"Nobody wants to dump (radioactive substances) into the ocean," said David Krofcheck, a senior lecturer in the School of Science at the University of Auckland, New Zealand.
Anjal Prakash, Associate Clinical Professor and Director of Research at the Bharti Institute of Public Policy, India Business School, Hyderabad, explained that "assessing the exact impact it is complexrequires taking into account various factors and ongoing scientific research."
Kalinga Seneviratne, a visiting professor at the University of the South Pacific in Fiji, said: "The pollution will also affect areas of the South Pacific Nuclear Weapons Free Zone Treaty (adopted in 1986) when it ends up flowing there. Also, as fish stocks are migratory, contaminated fish could be caught in the treaty area."
In this sense, the Deputy Prime Minister of Fiji, Manoa Kamikamica, had previously warned that the Pacific Ocean must not be seen as an easy and convenient dumping ground for unwanted and hazardous materials and waste that larger countries produce but do not want to use in their own ecosystem.
"The social and economic impact of this irresponsible behavior is catastrophic, especially in our vulnerable communities," he said.
Social discontent
Japan's decision has also sparked strong criticism in the local fishing community, as well as its immediate neighbors South Korea, Russia and China.
Last Monday TEPCO started a equipment function testwhich caused a new wave of discontent and even triggered protests in South Korea, local media collect.
On June 12, fishermen from across the country rallied in front of the National Assembly in Seoul to show their rejection of Tokyo's decision. Likewise, an alliance of more than 50 organizations called last Tuesday a rally in front of the Japanese consulate general on the island.
In April 2021, the Japanese authorities and the operator of the plant, the TEPCO company, announced their intention to discharge the treated wastewater into the sea to eliminate most of the radioactive materials, which, they say, will not pose a threat to human health or the marine environment.
However, this waste could still contain tritium, a naturally occurring radioactive form of hydrogen that is technically difficult to separate from water.
Source: RT