The question of the origin of this ivory has aroused great debate and interest among experts since the 19th century, when the first rings were found.
Hundreds of remains of elite women with mysterious ivory rings have been found in more than 70 Anglo-Saxon cemeteries dating from the 5th and 7th century AD.
Finally, using a multi-methodological approach, archaeologists discovered that the ivory came from elephants living in the Great Rift Valley in East Africa, some 6,400 kilometers from England. The results of their studies have been published in the scientific journal Journal of Archeological Science: Reports.
Recent excavations carried out by those responsible for the study between 2017 and 2019 in an Anglo-Saxon cemetery in the town of Scremby, 185 kilometers north of London, revealed seven female burials that included ivory rings 10 to 15 centimeters in diameter in their funerary ensembles, which would originally have formed the rigid opening for bags hanging from the waist.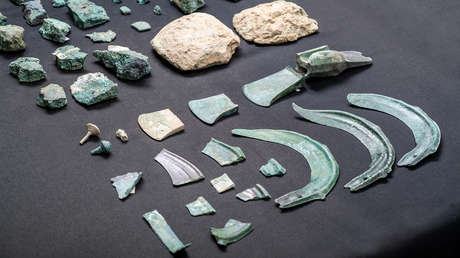 Large numbers of these rings have been found throughout central, southern and eastern England since the 19th century, and it was initially assumed to be some type of bracelet. However, since 1857 it was identified, thanks to the fragments of cloth found in one of them, that they were actually one of the components of bags to carry objects. But the question of the origin of the ivory had remained open for more than 200 years.
The results of the study allowed the researchers to not only rule out the theory that the ivory could come from other sources, such as mammoths or Arctic walruses, as several experts have proposed, but could also reveal one of the longest known trade routes for ivory. that time, since they suggest that the rings were made in Africa, probably in the Kingdom of Axum (in the northeast of the continent), to be later exported to England. The large number of rings belonging to these centuries that have been found evidence that they were popular for at least 100 years, which "suggests that this was a sustained and prolonged trade," said archaeologist Hugh Willmott, one of the co-authors of the study. for an article published by LiveScience.
The study analyzes the networks and socioeconomic factors that facilitated the distribution of ivory from Africa to the British Isles at that time, since the rarity of this type of material, which was not naturally available in 5th-century England, VII, would indicate that it may have been used not so much for a practical purpose but rather as a symbol of wealth.
If you liked it, share it with your friends!
Source: RT