Critics of the president denounce that his reaction to the largest natural disaster in the history of the state and the death of dozens of people is "absolutely horrible and unacceptable."
US President Joe Biden said on Tuesday that he will travel to Hawaii "as soon as I can" to monitor recovery efforts following the wildfires that have killed dozens of people on the island of Maui in recent days.
The powerful forest fires intensified at the beginning of last week by Hurricane Dora and it is estimated that they could be the biggest natural disaster in state history. These are the "deadliest" fires in the country "in more than 100 years."
"My wife Jill and I are going to Hawaii. As soon as we can"Biden said at an event on the economy held in Milwaukee (Wisconsin).
"I have been in too many disaster zones, but I want to go and make sure that there is everything they need. I want to make sure we don't disrupt ongoing recovery efforts," she added.
"Biden doesn't care about the people suffering on Maui"
These are Biden's first public comments on the disaster that has been taking place in Hawaii since last Thursday. The period of silence caused a wave of criticismincluding those of former President Donald Trump and other Republican politicians.
A few days ago the president was seen relaxing and riding a bike on a Delaware beach. When asked by reporters if he was going to visit Maui, Biden simply replied that his government "is looking into it."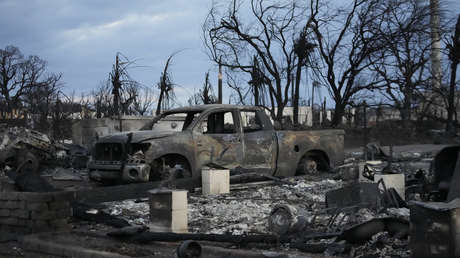 "When asked about it today as he was getting into a car, perhaps coming home from the beach where he's been spending a lot of time, […] Joe Biden, the president most incompetent in history of our country, laughing and with a smile, said that he had 'no comment' on the death and tragedy. Saying 'no comment' is usually fine, but smiling when you say it, especially in the face of a tragedy like this, it is absolutely horrible and unacceptable"Trump declared, quoted by Fox News.
"It's shameful that Joe Biden refuses to help or comment on the Maui tragedy, just as he refused to comment on the train derailment in East Palestine, Ohio, for a long, long time," he added.
In February, a freight train derailed in the city of East Palestine, Ohio, spewing toxic hazardous materials into the air. At the time, Biden was criticized by his opponents for visiting kyiv to meet Ukrainian President Vladimir Zelensky instead of paying attention to the state's residents.
For his part, Mike Flynn, who was US national security adviser under Donald Trump, also condemned Biden's reaction to the disaster in Hawaii. "Imagine the media storm if Trump was golfing while Maui burned. Now there are about 100 dead and more than 1,000 missing. And this whatever is going for a bike ride. God knows we need new leadership in the White House," he said.
Another former Trump Administration official, Monica Crowley, also lashed out at the current president. "Biden doesn't care about the people suffering on Maui. Or the people who suffer in East Palestine, Ohio. Or the people who suffer in the border cities. Or people suffering anywhere in America," tweeted Crowley in X.
In turn, Doug Heye, a former Republican National Committee official, described Biden's silence as "amazing" and "disappointing", collects NBC. "Here we have the deadliest forest fire in the history of our nation, and he has remained silent," he denounced.
$700 "insulting" offer
Amid criticism, the president on Monday offered $700 emergency relief to families affected by the devastating Maui fires. "We are focused on getting help to survivors, including critical needs help – a one-time payment of $700 per household that provides relief during an unimaginably difficult time," wrote Biden.
Meanwhile, that same day Washington announced a new $200 million military aid package for Ukraine.
In this sense, financial commentator Mark Wlosinski qualified the offer to Hawaii as "insulting." "Can someone explain how our government can send hundreds of billions to other countries, but choose to skimp a few pennies when our own people are in need? An entire city on American soil has been destroyed overnight, and the best that our government can do is it $700?" he asked.


Source: RT