The autopsy revealed that the newborn suffered a lack of oxygen "because she had a congenital heart disease that caused her brain death."
Omar Gabriel Barrientos and Layla Melani Rivero went urgently to a hospital in Ciudad Evita, Argentina, with their 21-day-old baby on Tuesday, February 7, without knowing that they would experience the worst nightmare of their lives.
Their daughter passed away, and her parents were accused not only of murdering her, but also of alleged sexual abuse. Now the autopsy has shown that the newborn she suffered "asphyxia while she was breastfed".
The couple's lawyer, Miguel Angel Racanelli, explained to the press that prepares a complaint against the medical staff of the Balestrini Hospital for offering "erroneous information", since those responsible for pediatrics and neonatology denounced that the little girl had injuries similar to those of sexual abuse.
[#YAQPA] 🗣️ They were accused of killing and raping their daughter, but they are innocent. I relived the full note to Gabriel Barrientos and Layla Rivero, Alison's parents, a 21-day-old baby who died in La Matanza, and to the couple's lawyer, Miguel Angel Racanelli , at 👉 https://t.co/4M6sCEjmLrpic.twitter.com/1BfWfar61l

– Radio Con Vos 89.9 (@radioconvos899) February 14, 2023
The complaint is also against the Police for "physical and psychological torture" during the period of detention of the parents.
"The baby had a lack of oxygen because had congenital heart disease which caused him to be brain dead. He had blood in his nostrils and his little mouth because his lungs failed. That's what the autopsy and the report of the Junin Forensic Medical Corps say," she said.
Racanelli also assured that he will denounce the hospital management by tell the media that there was sexual abuse.
"The worst tragedy"
Meanwhile, the parents recounted in an interview with Radio con Vos the ordeal they went through. "My daughter was sick (…) my partner yelled at me. I didn't understand anything. I tried to help my daughter (…) and I went to the hospital," she said.
Barrientos explained that they were admitted to the hospital "for one thing" and left "for another." "Without informing us of anything, not even when they took us to jail (…). After a while they separate us, they tell me about the worst tragedy, the worst thing they could have told me, that my daughter died while in prison," said the father.
And he continued: "Both in the hospital and at the police station I had a very bad time. I don't wish it on anyone. Both me and my partner had a very bad time. It was terrifying. Physically and verbally abuse in all ways what can you imagine."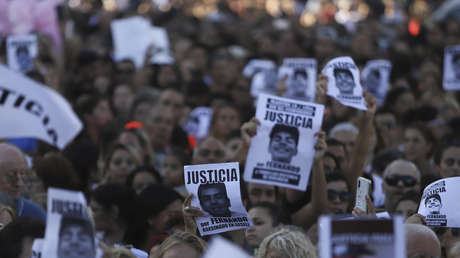 The baby's father explained that he was detained for five days and for two days he was prohibited from drinking water and from communicating with his relatives. "They told me: 'This one has to be cut off…' and that's when I suspected something had happened. They were saying 'This is an abuser," he said.
"We couldn't fire her"
For his part, his wife, Layla Melani Rivero, said that she suffered verbal and physical attacks. "Do you know why you are detained? It is because your baby was abused", she explained that she was told.
"At all times they wanted me to turn against him (…) I never went against him because I knew he hadn't done anything (…) I know my partner. We have been together for 10 years and three more children. Nothing ever, ever happened. I said no all the time, because I knew no," he said.
Rivero explained that they put her with the inmates and beat her "between 15 and 20 girls." "It's the worst thing that happened to me in my life, it's my first time in a police station, they dirty our name everywhere. Now going out on the street scares me because I don't know how people will react when they see us," he said.
And he concluded: "We couldn't fire her. We couldn't give him one last kiss As parents. It's all a nightmare."


Source: RT