The behavior of the sharks was "extremely unusual."
A film crew for a Netflix documentary series experienced moments of panic when the inflatable boats they were in were attacked by 15-foot tiger sharks.
The team was collecting images of the maiden flight of an albatross from Laysan, a remote Hawaiian island, for the series 'Our Planet II', British naturalist David Attenborough.
The incident took place while they were trying to shoot underwater. "The original idea was to do an underwater shoot with the tiger sharks waiting in the shallow waters of Laysan," series producer Huw Cordey told The Sun on Tuesday.
"But the first day there were tiger sharks, the team got into some inflatable boats and two sharks attacked them. It looked like something out of 'Jaws'."He highlighted, referring to the 1975 American horror film directed by Steven Spielberg.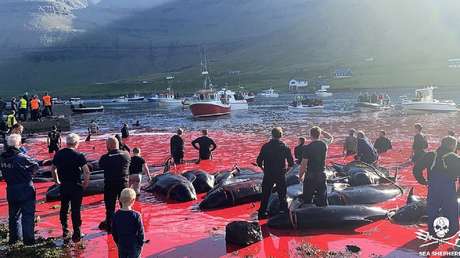 Producer-director Toby Nowlan described the terrifying scene in an interview with RadioTimes: "A tiger shark lunged at the boat and ripped huge holes in it. the boat exploded", he recounted.
"We tried to get away, but we couldn't. It was horrible. It was the second shark that attacked us that day," he said, describing the behavior of the sharks as "extremely unusual".
"They were incredibly hungry," Nowlan said, "so there may not have been enough natural food and they were trying whatever they found in the water."
The four episodes of 'Our Planet II' can now be seen streaming on Netflix.
Source: RT