South Africa claims that Israel's request for observer status in the bloc, made up of 55 member states, has not yet been decided.
A delegation of Israeli observers was expelled this Saturday from the African Union (AU) summit, held in the city of Addis Ababa (Ethiopia), as the dispute over Israeli accreditation before the bloc, reported the Ministry of Foreign Affairs of the Hebrew country, quoted by the local press.
Security guards reportedly approached Israeli diplomats during the opening ceremony and they asked them to leave. A video broadcast on social networks shows how the group, led by the Deputy Director General for Africa of the Foreign Ministry, Sharon Bar-Li, left the room after several minutes of discussion.
The Israeli delegation was expelled from the African Union summit in Ethiopia 🇪🇹 due to pressure from South Africa 🇿🇦 and Algeria 🇩🇿 Israel has had observer status in the African Union since 2021. Security and trade dominates the ongoing annual African Union summit. pic.twitter.com/nZmuZUGbtA

— Africa View Facts (@AfricaViewFacts) February 18, 2023
The spokesman for the ministry, Lior Hayat, stated that Israel considers the incident that occurred with the official "serious", "despite her status as an accredited observer", causing a diplomatic rupture, for which blamed countries like South Africa and Algeria.
"It is sad to see that the African Union has been held hostage by a small number of extremist countries like Algeria and South Africa, driven by hate and controlled by Iran," Hayat said. "We call on African countries to oppose these actions that harm the AU organization itself and the entire continent," he added.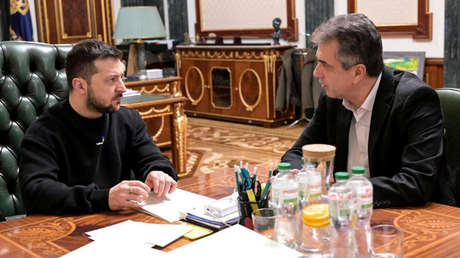 For its part, South Africa rejected Israel's accusations, alleging that its request to obtain observer status in the AU, made up of 55 member states, has not yet been decided by the bloc.
"Until the AU makes a decision on whether to grant Israel observer status, you cannot have the country present and observing"So it's not about South Africa or Algeria, it's a matter of principle," Clayson Monyela, head of public diplomacy at South Africa's Department of International Relations, told Reuters.
Israel as an observer in the AU
The issue of observer status for Israel – which was previously accredited to the Organization of African Unity (OAU) until its dissolution in 2002 – has caused deep contention in the union.
Some member countries, such as South Africa and Algeria, strongly protested against the decision taken in 2021 by the chairman of the African Union Commission, Moussa Faki Mahamat, to accept Israel's accreditation in the bloc.
Besides, the palestinian authority he has repeatedly urged African leaders to withdraw Israel's accreditation from the AU, decrying its "'apartheid' regime."
At last year's summit, discussion and voting on this point was suspended to avoid a potential unprecedented division among the participating states.


Source: RT