Iranian President Ebrahim Raisi began a three-day state visit to China on Tuesday, in response to an invitation from his counterpart Xi Jinping, local media reported.
This visit, the first in almost 20 years of an Iranian leader to China, aims to finalize an agreement that encourages Chinese investment in the Iranian economy of up to 400,000 million dollars.
In addition, it is likely that the negotiations will look into the possibility of Iran joining to the BRICS, collects the Iranian agency IRNA. China had already supported Iran's candidacy to become a full member of the Shanghai Cooperation Organization (SCO), which finally happened in September at the organization's summit held in the Uzbek city of Samarkand, the scene of the first contacts between Raisi and Chinese President Xi Jinping.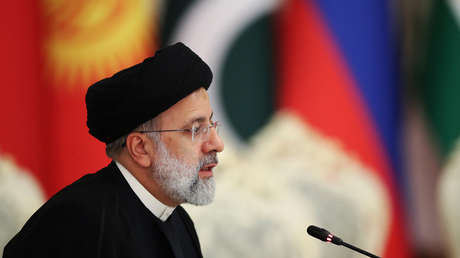 The Iranian president arrived at the Beijing international airport on Tuesday morning local time and was received by the Chinese Minister of Culture and Tourism, Hu Heping, reported the Islamic Republic News Agency.
He also met Xi Jinping at a ceremony held at the Chinese National People's Congress headquarters in Beijing.
The first day of the visit ended with the signing of 20 cooperation documents in fields ranging from tourism to intellectual property and joint media projects.
In addition, Xi Jinping stated on Tuesday during his talks with his Iranian counterpart that the Chinese authorities intend to continue facilitating consultations on the resumption of the Joint Comprehensive Plan of Action (JCPOA) on Iran's nuclear program, Chinese media report.
a secret agreement
It is reported that the conclusion of the operational mechanism of the 25 year partnership agreement signed between China and Iran in 2021 would be the main objective of the visit.
Although the details of the agreement have not yet been officially announced, The New York Times reported in 2021 that it seeks to extend cooperation to many areas, although one of the main provisions would consist of Beijing's large-scale purchase of Iranian oil at a reduced price in exchange for investments diversified into Iran's economy worth up to $400 billion.
Although the United States has imposed sanctions on the sector, China is currently one of the main consumers of Iranian oil. In 2021 and 2022, many media were reporting that Beijing was even increasing its purchases from Iran, thus easing the pressure of US restrictions.
According to Chinese customs data released by Iranian media, the volume of trade between Iran and China in 2022 was 15.7 billion dollars, 1.035 billion more than in 2021.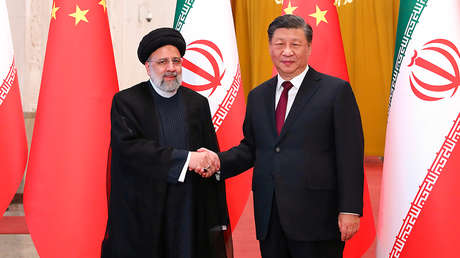 Relations with the United States
The second meeting between the leaders of China and Iran comes at a time when both countries are facing rising tensions with the United States on a number of global issues.
Before his visit, Raisi wrote an editorial in the Chinese newspaper People's Daily, stating that both nations believe that unilateralism and "violent" measures, such as imposing "unfair" sanctions, are the main causes of the crises. and insecurity in the world.
Since last September, unprecedented protests have been registered throughout Iran, which the authorities of the Persian country link to external forces, mainly the United States.
Iran closes in on Russia
Meanwhile, amid tensions with the United States, Iran is not only strengthening ties with China, but also with Russia. Iranian Ambassador to Russia Kazem Jalali stated on Monday that the Islamic republic is ready to introduce a visa-free regime with Russia, RBC reports.
In addition, in December it was learned that Moscow and Tehran are setting up a trade corridor from Eastern Europe to the Indian Ocean that will allow reduce existing routes by thousands of kilometers and evade the sanctions imposed on both nations by Western countries.
"Iran has partners, it is not alone"
"This visit is especially noteworthy in the context of the deterioration of relations between China and the US and the bad relations that the US and Iran have had for a long time. Both countries share the rejection of american hegemony on the international scene, to which the world is already saying goodbye," explains Elena Suponina, an expert at the Russian Council for International Affairs (RIAC) in statements to VZGLYAD.
He also added that "both countries also express their dissatisfaction with the US use of sanctions as a political and economic weapon."
Arshin Adib-Moghaddam, Professor of Politics and International Studies at the School of Oriental and African Studies (SOAS) in London, argues, quoted by Time, that "we are in the midst of a momentous reordering of world politicsl." "New patterns of alliances are emerging and becoming stronger," he adds.
"Ebrahim Raisi's visit comes at a time when both China and Iran are strengthening relations with Russia. Both sides say they oppose a world order led by the United States and its allies," said Katrina Yu, a journalist for Al Jazeera.
Russian political scientist Stanislav Tarasov told Abzatz that "Raisi's visit is a kind of demonstration that Iran has partners and is not alone." "The West—and to a greater extent the United States—has always taken a position of strength in negotiations with Tehran. Due to its hard line, nuclear negotiations have stalled and the sanctions against Iran have not been lifted," he laments.
"Iran is systematically increasing its engagement with non-Western countries represented by China and Russia, especially under the current administration, and President Raisi's first state visit to Beijing seems a logical embodiment of Iranian foreign policy," he said. Adlan Margoev, a researcher at the Moscow State Institute of International Relations, told RBC.
Source: RT