From Tehran they have condemned Washington's "terrorist" attack against "civilian targets" in northeastern Syria.
Iran has spoken out this Saturday against the US air strike in the vicinity of the Syrian region of Deir ez Zor, which occurred in response to an attack with alleged Iranian drones on a US base on Thursday.
In a statement, the spokesman for the Iranian Ministry of Foreign Affairs, Nasser Kanani, stated that the "terrorist" attacks carried out this Friday by the US. hit civilian targets and constituted a violation of international law and Syrian sovereignty.
"The continued illegal US military presence and occupation of parts of Syrian territory and attacking various targets in this country is a violation of international law and the national sovereignty and territorial integrity of this country," it added. the spokesperson.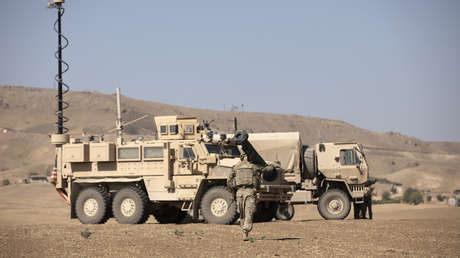 Referring to the military intervention in Syria led by Washington, the spokesman stressed that it is based only on the looting of that nation. "The US claim to be in Syria to fight the Islamic State, in the creation of which it itself played a major role, it's just an excuse to continue the occupation and looting of Syrian national wealth, including its energy resources and its grains," he said.
Troops stay in Syria
For their part, from Washington they assured that they intend to maintain the military presence in Syria with its current size, despite the recent attacks against its facilities.
"We will always act to defend our troops and that is not going to change, our mission to destroy the Islamic State will not change. we have less than 1,000 soldiers in Syria dedicated to this task," John Kirby, White House National Security Council Coordinator for Strategic Communications, said Sunday.
The spokesman did not rule out further retaliatory strikes against pro-Iranian groups in Syria. "I would not at all rule out the possibility of additional US action if the president deems it possible and necessary to protect our military and bases," he added.
Drone attack on a US base and response offensive
The US Department of Defense reported Thursday that a drone — which according to the intelligence community's assessment is "of Iranian origin" — attacked the facilities of a military base belonging to the coalition forces led by Washington located near the city of Hasaka, in northeastern Syria. As a result of this attack, a US soldier died and six more were injured.
In response, USA performed precision attacks against several facilities in eastern Syria, which, according to their statements, would have been used by groups related to the Islamic Revolutionary Guard Corps of Iran. The president of the United States, Joe Biden, spoke out this Friday about the attack on the military base located near Hasaka and affirmed that Washington "does not seek a conflict with Iran." "Make no mistake: The United States does not seek conflict with Iran, but it is willing to act decisively to protect its people," he said.
This Friday, the US Central Command announced that a dozen missiles were launched against green village military base, belonging to the coalition forces and located in the Al-Omar gas field, in north-eastern Syria. It was reported that the military base located in the Koniko gas field, in the Syrian governorate of Koniko, was also attacked with missiles.Deir ez Zor.
Source: RT