The world's third-biggest oil importer and consumer increased its purchases of Russian hydrocarbon after Moscow diverted supplies to Asia over Western sanctions.
The Reserve Bank of India (RBI, for its acronym in English) in its annual report, published on May 30, reported that throughout the fiscal year 2022-2023, which ended on March 31, "there was a change in India's crude oil import sources".
"The Russian participation in India's oil imports shot up to 19.1% from 2.0% from a year ago", has specified the RBI. In terms of value, the volume of purchases of Russian crude in said period has reached 31,020 million dollars, starting from 2,200 million the previous year.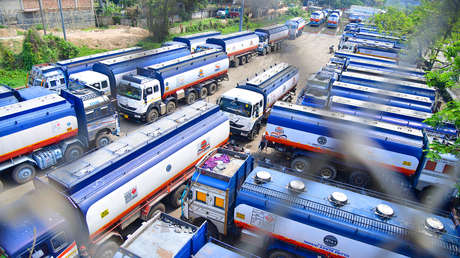 Thus, during the past fiscal year, Moscow exported to the Indiahe Third largest importer and consumer of oil of the world, 50.84 million tons of oil. With this, because the US and its allies capped Russian oil at a price of $60 per barrel, Tehran overtook Moscow in terms of the value of exports to India, supplying the $50.31 million tons for 33.370 million dollars.
Other major oil suppliers to this Asian republic include Saudi Arabia (39.37 million tons), the United Arab Emirates (21.5 million tons) and the US (15.16 million tons).
Indian refiners increased purchases of Russian hydrocarbon after Moscow diverted their supplies to Asia following sanctions imposed by the West in retaliation for its special military operation in Ukraine.
In a recent interview, Russian Deputy Prime Minister Alexander Novak stated that Russia plans to supply more than 50% of its oil to the Asia-Pacific region by 2023.
Most of the additional volumes of crude oil and its derivative products will be supplied to China and India.
Source: RT