The former president took office in a symbolic ceremony in Shanghai in which the Brazilian president, Luiz Inacio Lula da Silva, participated.
Former Brazilian President Dilma Rousseff assumed command of the New Development Bank (NDB, for its acronym in English) of the BRICS, in a symbolic ceremony in Shanghai, headquarters of the entity, in which the current Brazilian president Luiz Inacio Lula da Silva participated.
"Assuming the presidency of the NDB is undoubtedly a great opportunity to do more for the BRICS countries, but not only for their members, but also by emerging countries and developing countries"said Rousseff, who has been officially in office since March 28.
The bank was created in 2015 by Brazil, Russia, India, China and South Africa -countries of the block-, and later Uruguay, Bangladesh, Egypt and the United Arab Emirates joined the entity.
In her speech, HE Mrs. Dilma Rousseff emphasized the Bank's commitment to supporting Brazil's sustainable development goals and highlighted the importance of the presidential visit for strengthening the cooperation between the NDB and Brazil.#NDB#BRICSpic.twitter.com/0aut3dLM1H

— New Development Bank (@NDB_int) April 13, 2023
In her speech, Rousseff spoke of "leading a development model that proposes a prosperous and developed world shared by all humanity."
"We know that emerging economies face significant challenges such as persistent inequality, extreme poverty, inadequate infrastructure, or lack of access to education, health, and housing," he recalled.
He also stressed that "together, the BRICS have the conditions to contribute so that their members and other developing countries overcome these problems."
"Robust Financial Alternatives"
"It's fundamental expand the reach of the bank (…) our objective is to build robust financial alternatives for member countries", asserted the president of the NDB, who reiterated that "inclusion and inequality" represent the "central challenges" of the BRICS.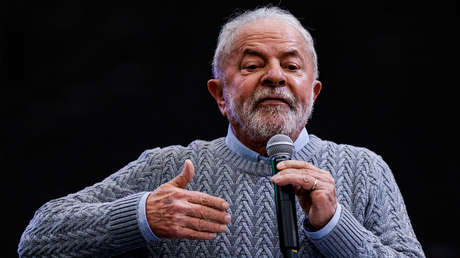 Rousseff, who was Minister of Mines and Energy and head of the Civil House in the previous governments (2003-2010) of Lula, was elected president of Brazil in 2010 and re-elected in 2014. However, two years later she was overthrown in a process of 'impeachment'.
During his government, priority was given to fight against poverty and were expanded and recognized internationally social programs started under Lula's mandate.
After his address, Lula gave a speech in which he attacked the International Monetary Fund (IMF) and other traditional financial institutions for imposing their rules on developing countries.
The president criticized the widespread use of the dollar, which, in his opinion, threatens the future of humanity, and urged the creation of a single currency for the BRICS bloc.
Lula is scheduled to meet his Chinese counterpart, Xi Jinping, in Beijing on Friday.
If you liked it, share it with your friends!


Source: RT