The official considered that "the US must return to the path of peace" and stressed that "Venezuela is not its enemy."
The Venezuelan Special Envoy Alex Saab, who is imprisoned in the US, considered that he is a prisoner of the "unconventional war" that Washington declared against Venezuela.
"I'm a political prisoner, there's no doubta prisoner of an unconventional war that the US has unilaterally declared to us," Saab said in audio released Tuesday by his wife, Camilla Fabri Saab.
In addition to his arrest, the diplomat maintained that this unconventional war includes the imposition of "criminal sanctions" that "have caused terrible damage to the people of Venezuela."
In this regard, he said that "the US must return to the path of peace" and that "Venezuela is not its enemy", for which he urged the possibility of "shaking hands" to be opened.
"Political differences should not prevent us from maintaining diplomatic relations and economic relations between our nations", he highlighted. Along these lines, he pointed out that the Venezuelan government, chaired by Nicolas Maduro, "has already extended its hand several times with the aim of reestablishing cordial relations with the United States, based on mutual respect ".
"It is time to leave the mistakes in the past and move on," he added.
almost 1,000 days
Saab recalled in the audio that "it's been almost 1,000 days" since it was "illegally detained". His apprehension occurred in June 2020, during a stopover in Cape Verde when he was on his way to Iran, on a diplomatic mission to negotiate oil agreements and acquire medicine and food for Venezuela.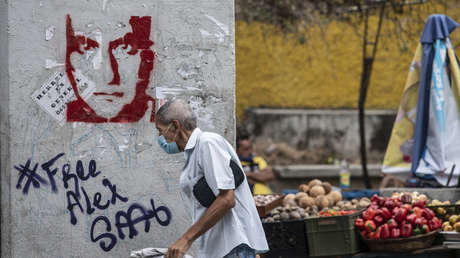 The plane made a technical stop on the African island to refuel, but the local authorities detained it, despite its diplomatic status.
Later, in october 2021, he was extradited to the US In that country, he is accused of contributing to money laundering from a series of bribes, which allegedly would have diverted millions of dollars through state contracts to build homes.
Last December, Robert Scola, a federal judge in Miami, ruled that Saab is not entitled to diplomatic immunity, thus confirming that he should be tried on money laundering charges.
Source: RT