He was also photographed driving down the freeway in the direction of Las Vegas at almost 277 km/h, while on his way to an appointment with prostitutes.
Hunter Biden has repeatedly severely broken traffic laws, endangering the lives of others, photos taken by the US president's own son Joe Biden show, according to a new batch of images found on his laptop and Obtained by Daily Mail.
According to the outlet, a few years ago, Hunter Biden took a photo of himself driving down a highway outside Las Vegas in his Porsche 911 at a speed of 172 mph (almost 277km/h). In the image, purportedly taken in August 2018 as the US leader's son was traveling into the city for a date with multiple prostitutes, the dashboard and speedometer can be seen indicating speed at this dangerous level.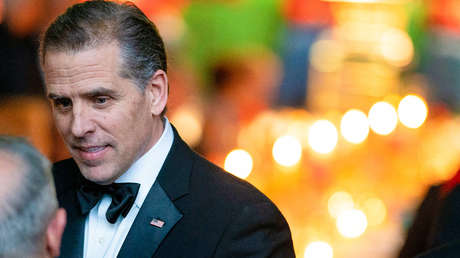 Another leaked image, also from 2018, shows a more disturbing scene. Hunter captured the moment in which he used drugs at the wheel while driving through a residential neighborhood in the city of Arlington, in the state of Virginia, at a speed of 35 m / h (about 55 km / h). In particular, he had a crack pipe in his hand.
The US president's son is at the center of public scrutiny after a scandal broke over his laptop, the contents of which came to light ahead of the 2020 presidential election.
Earlier this summer, the website BidenLaptopMedia.com published a collection of nearly 10,000 private photos, taken between the years 2008 and 2019, that were leaked of the controversial laptop. For example, several nude photos of Hallie Biden, the widow of Beau Biden —the deceased eldest son of the current US president—, who was Hunter's lover, were retouched. One of these photos was taken in 2018 and shows a text message conversation between Hallie Biden and Hunter, as well as a variety of drugs and a condom wrapper on a table.
Source: RT