The Ukrainian president pointed out that kyiv will continue to demand from the US the supply of missiles such as ATACMS, with a range of 300 kilometers.
The President of Ukraine, Vladimir Zelensky, declared on Thursday that the lack of long-range weapons and Russia's superiority in this sphere complicate the counteroffensive that kyiv has been carrying out for more than a month.
"Without long-range weapons, it is difficult to not only carry out an offensive mission, but also to carry out a defensive operation. This means that you are defending your ground and you can't reach the proper distance to destroy your enemy. That is, the enemy has a distance advantage," he told a news conference in the Czech Republic with the nation's prime minister, Petr Fiala.
In this sense, the Ukrainian president emphasized that kyiv continues with its attempts to convince its partners, especially Washington, to deliver these types of systems. "Today it depends only on them [EE.UU.]. There are also long-range projectiles. It is something slightly different. Some of the systems we have are artillery systems," he remarked.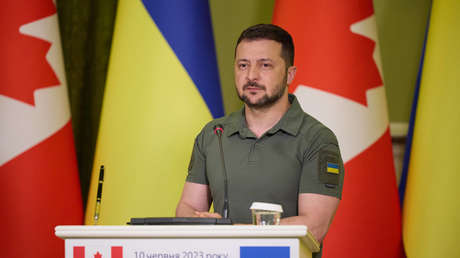 In an interview with CNN published on July 5, Zelensky criticized the White House's reluctance to provide ATACMS guided missiles. These projectiles have a range of 300 kilometers and can be fired from Western missile launcher systems HIMARS either M270, which Ukraine already has.
"In some areas, this [la entrega de proyectiles de largo alcance] It will give us an opportunity to start a counteroffensive. in some areas we can't even think of starting it, since we do not have enough weapons. And launch our people to be killed by Russian long-range weapons it would be simply inhuman"said the Ukrainian president.
Ukraine has been demanding the delivery of long-range weapons since the start of the Russian military operation in February 2022. Last May, the United Kingdom approved the supply of cruise missiles Storm Shadow with a scope of more than 250 kilometers and equipped with stealth capabilities.
According to the Russian Defense Ministry, the Ukrainian Armed Forces have been making unsuccessful counteroffensive attempts since June 4. Both Western and kyiv representatives have admitted that these military actions they are slower than expected.
Source: RT