The tenants, an Argentine couple with three children, lost all their belongings and kept what they were wearing. The neighbors try to help them through a solidarity campaign.
A family from the Cordoba city of Ascochinga (Argentina) lost their house and all their belongings after a raging fire caused by the bad combustion of a salamander stove on June 16, reports ElDoce.tv. In a short time the fire spread throughout the property.
Anabellia, who is the mother of three children – ages 26, 24 and 3 – left the house to look for her daughter in the garden, and when she returned she found her home engulfed in flames. "My life was gone. You get home and in two seconds you have nothing. I never imagined going through this situation," lamented the woman in statements to the media.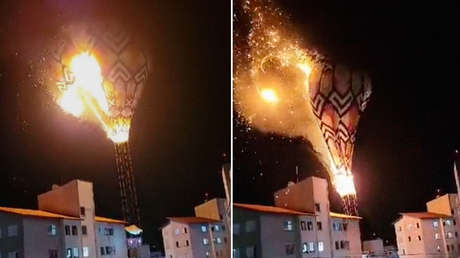 One of the sons was inside the house when the fire started, but he left the property unharmed. As a consequence of the incident, the family lost all their belongings, despite the work of the local fire brigade.
Currently Anabellia, her husband and their children remain at the grandmother's house, while their neighbors and friends are leading a campaign to help collect clothing and construction materials to rebuild the home of the affected family.
Source: RT