His name is Guillermo Chin Canche and he describes himself as a combination of a curious child and an incursionist researcher. But the truth is that at 26 years old, he is the first Mexican to work together with 117 scientists from around the world on one of the most important projects of the National Aeronautics and Space Administration (NASA): the exploration of Titan, the largest satellite of Saturn.
It was in the indigenous community of Bethania, in the state of Campeche, where Guillermo, with the help of his parents, answered his first doubts about the universe. The other questions were discovered by himself and thus began his fruitful path in science, which has gone from mechatronics to astrophysics, and from there to physical oceanography, all following a very clear line: astrobiology.
"I knew from a young age that I wanted to dedicate myself to science.I wanted to be a scientist to be in contact with nature, but it was very difficult for me to decide what part of science I wanted to focus on", Guillermo narrates in an interview with RT. However, the young man finally discovered that astrobiology was a way of combine many things: "I am learning both the physical part, as well as the mathematical, biological, and chemical part".
His concerns, his passion for learning, his "love for science", as he himself underlines, they have taken him to study Mechatronics Engineering at the Autonomous University of Campeche and a master's degree in Space Science and Technology at the National Institute of Astrophysics, Optics and Electronics (INAOE), in Puebla.
He has collaborated in projects of the Ensenada Center for Scientific Research and Higher Education, the Southwest Research Institute, the Large Millimeter Telescope and the Dutch Institute for Space Research.
He is currently a doctoral student in Physical Oceanography at the Center for Scientific Research and Higher Education in Ensenada (CICESE), in Baja California, the study center where he found an article that talked about methane clouds on the Titan satellite, while thinking about the focus of your thesis.
This finding prompted him to seek out Dr. Scots Rafkinfrom NASA's Planetary Sciences Division – whom he considers "his guide" – without imagining that the mentor would invite him to work in the meteorology team for the mission Dragonflya kind of drone with which samples of the soil and atmosphere of Titan can be taken, with the aim of knowing what the chemical process is like for the first microorganisms to emerge.
But what will be the work of Guillermo in this project? His thesis, he explains, "it's the preliminary phase before Dragonfly is released"so the team dedicated to programming is going to design the control systems for the probe.
After this process, the Mexican scientist is clear about what his steps will be: "I am going to dedicate my last years of research in the project to trying to process the data that Dragonfly collects."
younger for science
The path that Guillermo has traveled has not been easy, but although financial difficulties were always present in the bosom of a family with Mayan roots, he speaks with pride of how they fueled his curiosity and gave him everything he needed for school.
Beyond his scientific work, the young man also has knocked on many doors in search of financing. Fortunately for him, he says, he has received a lot of support from the Government of Campeche and from the universities where he has studied. In addition, he has a scholarship from the National Council for Science and Technology (Conacyt), a decentralized public body responsible for promoting the advancement of scientific research, innovation, development and technological modernization in Mexico.
Guillermo has collaborated in projects of the Ensenada Center for Scientific Research and Higher Education (CICESE), in Mexico; the Southwest Research Institute, in the US; the Large Millimeter Telescope, in Mexico, and the Dutch Institute for Space Research, in the Netherlands.
"I always like to share the projects I am doing in a language that could be more understandable for everyone"
Has won several medals first and second place in international science competitions. One of them, the most relevant for him so far, is the I-FEST, the International Festival of Science and Technology in Tunisia.
There, he says, he faced competitors from Asian and European countries: "We we create biofuel from microalgaewe took samples from the Campeche mangrove swamp, isolated three microalgae and from there we produced what is known as biodiesel", he recounts.
On the other hand, Chin Canche founded the Society for Science, Technology and Youth Research (SCTIJ) of Mexico AC, a system that brings together young people interested in the study and dissemination of science and technological advances.
For him, spreading science is an urgent task. "It is a legacy – he affirms – that every scientist should have to motivate society to, first, be interested in science, and second, to be interested in working in science".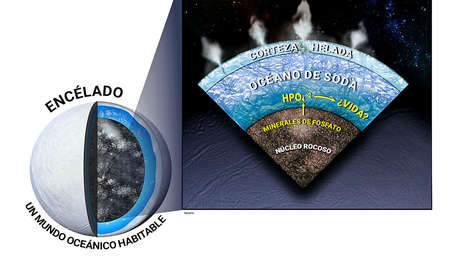 "I always like to share the projects I am doing in a language that could be more understandable for everyone, and also I like to do campaigns with children so that they feel that perhaps the path of science looks difficult, and to a certain extent it is, but it is not impossible to travel", he comments.
"I would like more children, younger people, to be interested in entering a scientific career," he adds.
Although for now Guillermo is focused on astrobiology, he admits that he is open to working on different projects. "I would like to focus more on interplanetary science, so I think I'm going to continue with a similar process, maybe for another planet, which in this case could be Mars or possibly Venus".
Source: RT