The Minister of the Interior justified the repression during the demonstrations and assured that they now have "a more trained Police".
The Government of Peru assured that they will endorse "a very important blow" to the organizations that promote the march on July 19, when thousands of people are expected to arrive in Lima to demand the resignation of President Dina Boluarte and an advance of elections.
"Behind this there is an ideological and political issue," Interior Minister Vicente Romero said on Sunday. "We shortly We are going to give a very important blow", he said in an interview on the program 'Punto Final', broadcast by the local channel Latina.
Romero pointed out that he cannot advance anything "because he is at work at the moment", but when asked by the driver if it is a measure to disrupt the protest, he replied that "of course".
The third 'Take of Lima', as some sectors have called it, foresees the arrival of a large number of people from areas such as Apurimac, Cusco or Puno, regions where Boluarte has a high level of disapproval.
police action
Regarding the deployment of troops for the day of mobilizations, the minister asserted that now there is "a different police force."
"We have a police morally 100% (…) We have a more trained Policemore trained," said Romero, before specifying that there are 24,000 ready officers throughout Peru and almost half (11,000) in the capital.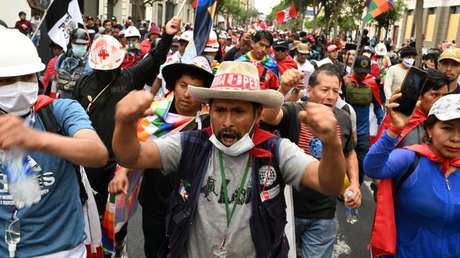 Between December 2022 and February 2023, when the first protests against Boluarte took place, at least 67 people diedof which 49 occurred during clashes with police and military.
Questioned about it, Romero declared that the police are now trained in "respect for human rights, which is the most important thing." Without acknowledging the state repression, he added that on this occasion "they will not fall for provocations".
Vizcarra joins the march
This Monday, former Peruvian President Martin Vizcarra announced that both he and his new party, Peru Primero, would join the protest on Wednesday.
"It is fully justified. If we don't march now, when are we going to march? we are outraged", expressed Vizcarra in the program 'A Pensar Mas with Rosa Maria Palacios', broadcast by Radio Santa Rosa.
Vizcarra maintained that the objective is "get out of political chaos" in which find Peru and demonstrate peacefully against what he has called a "congressional dictatorship."
"Boluarte has alienated itself as a right-wing government, It is aligned with the parties of the extreme right. This right wing that does not think about progress, development, investment, but rather his immediate interests, those are the ones who are running the government," he said.
presidential pronouncement
This Monday, within the framework of the inauguration of a craft fair, Boluarte broke his silence of the last days and without referring to the third 'Toma de Lima', insisted on his call for national unity.
"We need to dialogue, we need national unity, we need to love each other and meet as Peruvians and We do not need those messages that separate usthat polarize us and put us face to face with each other," he said.
Source: RT