The Minister of Justice and Public Security, Gustavo Villatoro, affirmed that 66,417 arrests have been made since the emergency regime decreed a year ago by Nayib Bukele.
The Minister of Justice and Public Security of El Salvador, Gustavo Villatoro, said that 35% of the gang members remain to be captured, despite the fact that 66,417 arrests have already been made since the emergency regime decreed a year ago by Nayib Bukele.
"This is in relation to the number of members of these structures, understanding that they had a social base, which is where the collaborators are, the posts, the strikes, the checks. Quite a few of these were captured in the first waves [operaciones]", declared Villatoro, in an interview on television Front to Front, collected by Prensa Grafica.
Villatoro added that they know the identities of those who are yet to be captured, since they previously had a record of 76,600 active gang members. "We are definitely transforming El Salvador," she commented.
On the results one year after the implementation of the #ExceptionRegimen, the Minister explained that there are ➡️ 66,417 captured terrorists. About the seizures:☑️2,547 firearms☑️3,292 vehicles☑️15,878 cell phones☑️$3 million in cash pic.twitter.com/IbPPfJJgk1

– Ministry of Security (@SeguridadSV) March 27, 2023
He also assured that the exceptional regime will not end until "the last member" is captured and that this measure "was always in the delicacy of solutions or tools that were available to the president."
Bukele's state of exception came into force at the end of March 2022 and was decreed after an escalation of violence that left 62 people murdered that day aloneand in less than a week, a balance of 87 fatalities at the hands of gangs.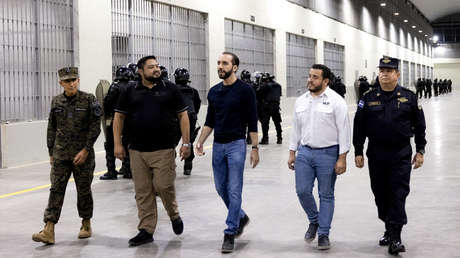 "On the anniversary of the approval of the emergency regime, we closed the day with 0 homicides. We will continue working for the safety of Salvadorans, even if 'human rights' NGOs claim it," wrote Bukele on Twitter early Monday morning.
Human rights organizations warn that during the emergency regime the security forces have committed more than 4,500 abuses against the populationincluding arbitrary arrests, harassment, threats, sexual violence, torture and personal injuries.
In its 2022 annual report on Human Rights, the US State Department denounces "inhumane treatment" in El Salvador's prisons and a "worsening of the prison situation" in that country.
Likewise, it blames the Government of Bukele "or their agents"who, according to "reports", committed arbitrary or illegal homicides, which "largely resulted in the death of detainees while in prison during the state of emergency."


Source: RT