New protests related to a worsening of the situation in the city cannot be ruled out at this time, the ministry spokesman said.
German Defense Minister Boris Pistorius canceled his trip to Iraq at the last minute due to security concerns in the country following protests in Baghdad over Koran desecrations in Sweden and Denmark, Bloomberg reports.
The cancellation of the trip occurred this Sunday when the plane of the minister and his delegation was ready to take off from Berlin.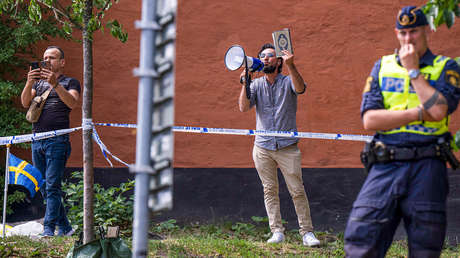 "The background to the decision is the current events in Iraq, where there have been violent riots against the Swedish Embassy and an NGO from Denmark in recent days," German Defense Ministry spokesman Kevin Huuk said.
"At the moment new protests cannot be ruled out related to security and a worsening of the situation," he added.
The planned visit was part of the process to extend the parliamentary mandate of a small contingent of German soldiers who train Iraqi troops, the outlet details.
In the early hours of this Thursday, hundreds of people broke into the Swedish Embassy in Baghdad and set fire inside, after a new incident in which a Swedish protester announced that the country's police had allowed him to publicly burn a copy of the Koran and the Iraqi flag.
That same day, Iraq decided to withdraw its charge d'affaires in Sweden and asked the Swedish ambassador to leave his territory. Other nations in the region, such as Qatar, Saudi Arabia and Pakistan, have also condemned the desecration of the Koran.

Iraqi protesters also headed towards the Danish diplomatic mission this Saturday after the ultranationalist group from the Scandinavian country Danish Patriots to burn what is believed to be the Muslim holy book in front of the Iraqi Embassy in Copenhagen. However, the security forces used tear gas to disperse the protest and closed several areas leading to the area.
Source: RT