"It is not up to the State to educate children," declared the head of Justice, Eric Dupond-Moretti.
The French Ministry of Justice has exposed the "quick, firm and systematic" criminal response that awaits the instigators of the urban violence that plagues the country, during the massive protests caused by the death of a minor at the hands of the Police.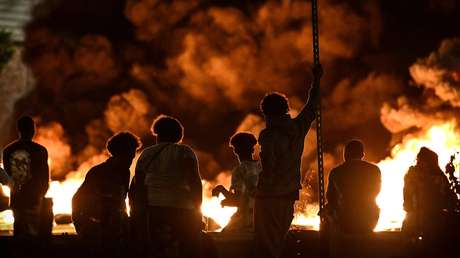 During a visit to the Judicial Court of Creteil, the Secretary of Justice, Eric Dupond-Moretti, called to order "all those who have the responsibility to guarantee parental authority" but "do not do it".
"Parents who do not care about their children, who leave them running around at night knowing where they are going, when they are 13 or 14 years old, can be punished with two years in prison and a fine of 30,000 euros"said the minister.
"Let them take care of their children, it is not up to the State to educate children"he stressed.
Dupond-Moretti strongly supported the statements of President Emmanuel Macron this Saturday, in which he criticized the use of social networks by young people, condemning the organization of "violent gatherings" on Snapchat and TikTok: "When you invite friends to go break things, that's called potentially criminal association", he warned.
"The judicial authority may, upon request, request the operators to give out IP addresseswhich allows us to obtain the identity of those who use them (the networks) to say when, where and how they are going to break the law," he commented, warning that, although the measure may take some time, it will be applied.
Consequences of the riots
The riots began this Tuesday a few hundred meters from the victim's home, in Nanterre, and quickly turned into clashes between police and protesters.
There were acts of vandalism at bus stops, garbage containers on the roads, cars and urban furniture were set on fire, in addition to erecting barricades that were later also set on fire. On the first day, at least 24 people were detained by the Police.
In the second day of protests the clashes became even more violent and spread to various cities, such as Toulouse, Nantes, La Courneuve, Nice, Lille, among others.
There were large fires and attacks against police stations and police vehicles. Thus, protesters in the Essonne department set a bus on fire, causing a disruption to transport services, and even tried to break into one of the largest prisons in France, located in the municipality of Fresnes, to free some prisoners. At least 150 people were arrested.


Source: RT