The former presidential candidate called the communicator a "mercenary" and an "extortionist".
Former Ecuadorian presidential candidate Jan Topic assured this Wednesday that his opponent in the electoral contest on August 20, journalist Christian Zurita, had asked him for money in exchange for "media shielding services" three years ago.
"Why doesn't Christian Zurita say that he came to the house, to our house, to ask us for money three years ago and that he was not given? mentioned how he had shielded Banco del Austro from the media"Topic commented.
The politician made this comment in an interview with La Posta, where he described Zurita as a "mercenary" and "extortioner", who joined the race for the Construye movement a few days before the elections, replacing Fernando Villavicencio, after he was assassinated on August 9 after leaving a campaign rally in Quito.
"If I already had a low opinion of Christian Zurita, the opinion right now is infinitely lowerTopic emphasized.
The former candidate reproached the complaint that Zurita filed on August 16, just four days before the elections, regarding a contract for 30 million dollars signed between the company Telconet, related to Topic, and the Municipality of Guayaquil, for the provision of video surveillance cameras.
Zurita, based on a report allegedly prepared by the contract administrator, pointed out that "the cameras, placed in a good part of the city, they do not fulfill their function" and that Guayaquil continues to "pay money" for that.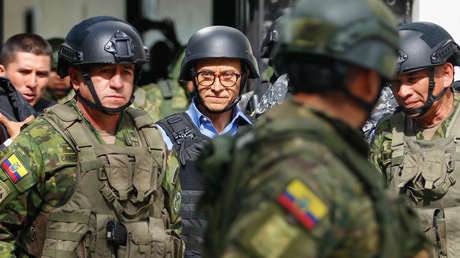 In this regard, Topic asserted this Wednesday that "the report that he [Zurita] mentioned the issue of cameras does not exist", and commented that it had bothered him that no one had asked him for the document that he supposedly had in his possession.
In the contest on August 20, Zurita and Topic placed third and fourth, respectively. According to the results of the National Electoral Council (CNE), the Construye candidate obtained 16.37% of the votes (1,614,434 votes), while the standard bearer of the alliance For a Country without Fear reached 14.67% (1,446 .812).
The runoff, which will be held on October 15, included Luisa Gonzalez, from the Citizen Revolution movement (RC), and Daniel Noboa, from the National Democratic Action alliance (ADN).
Source: RT